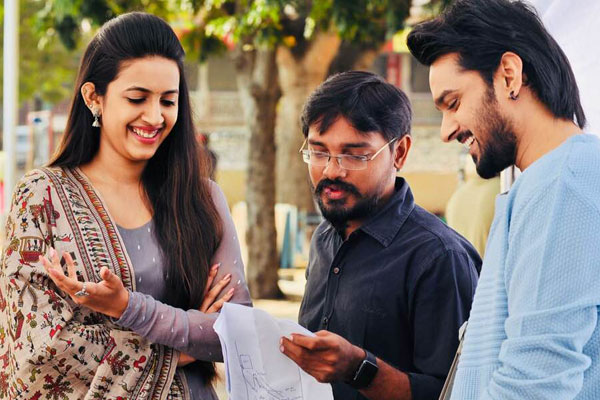 Nagaraj Goud
Although attracted to films since childhood, it was Deva Katta's 'Prasthanam' that left a lasting impression on Lakshman Karya, the director of Sumanth Ashwin and Niharika Konidela-starrer 'Happy Wedding'. So much so that he immediately wanted to learn the ropes of filmmaking from him. "Luckily, it just took one year for me to work under him after I entered the industry," Lakshman tells telugu360.com.
Born and bred in the temple town of Tirupati, Lakshman, a B.Pharm. graduate, stepped into the industry along with his bestie Srihari who is now a small screen actor. "He used to have a handy cam and I used to show my creativity shooting him whilst in Tirupati," he laughs, "He sent some of the pictures that I've clicked of his, to Ohmkar's program 'Genius'. He got selected and I accompanied him to Hyderabad. As the show had a vacancy in the direction department, I too—after Ohmkar watched some of my short films—joined it."
Soon after cameraman Srikanth Naroju, impressed by one of Lakshman's short films, asked him to be part of his team. Although he was hesitant to begin with as he was nursing direction ambitions, Srikanth assured him that it'd be a good experience for him moving forward. "I've joined the camera department for 'Mogudu' film," he avers, adding that as Srikanth was set to shoot 'Autonagar Surya' next, he asked him to shoot some videos, which he did. Deva was impressed by them and his editing skills were a bonus but as the director's team was chock-full by then, Lakshman joined 'Autonagar Surya' as a clap assistant.
He admits he learnt a lot from Deva. "It is because of him I understood that if the content is good on paper, the resultant product will be good on screen. How many days you spend on a script is more important than how many days you film it," he asserts, adding that he developed a great rapport with Deva as the shoot went on.
But with eight days away from a wrap-up, 'Autonagar Surya's shoot came to a standstill. The team moved on to other projects and as Lakshman already had prior experience in TV, he was asked to join the team of show 'Boothala Deevi' as a co-director. More shows followed, including the famous 'Touch Lo Vunte Chepta' for which he worked as a writer. "It was a super hit show and instead of it being another regular talk-show, I've made it funnier, which worked big time," he points out.
Later Deva rang him as he got a green signal from producers of 'Autonagar Surya' to complete the pending shoot. "I was the first person to be contacted by him to join him when the film resumed. Since I was freelancing with TV, it was easier for me to get back unlike the other (initial) team members who got busy with other films. From being a clap assistant, I became a first assistant director to Deva garu on 'Autonagar Surya'," he flashbacks fondly.
He later associated with Deva's ad firm Eye Candy while penning his own scripts and beginning his own efforts for direction opportunity. As he came to know that Allu Sirish was inclining towards a web series, he approached him with a three-episode script of 'Endukila', a light-hearted comedy about an unlucky guy who falls in love. Soon, Deva got a wind of the news and impressed by the script, he set up the project with Yupp TV. "Since it was the first web series of Telugu, they wanted to make it on a prestigious note. Sumanth Ashwin came into the picture later and we've done nine episodes of it."
The positive response that 'Endukila' got, led MS Raju check with Lakshman if he had any stories for his son. "I told him about the three-four scripts that I had and though he liked all of them, it was a question of whether they can be done straightaway or not. He suggested I do 'Happy Wedding'," he notes, adding that he was keen on Niharika for the project. "It's a strong role and the requirement was a Telugu girl. I was apprehensive whether she'd accept it or not, as I was told that she rejected many offers post 'Oka Manasu' but she gave her consent in the first narration itself. Later, UV Creations came on board."
Also featuring Naresh, Indraja, Murali Sharma, Pavitra Lokesh and Tulasi in supporting roles, 'Happy Wedding', he says, focuses on the time between engagement and marriage of lovers (played by Sumanth and Niharika). "It's about how their relationship hits a bumpy ride in the run-up to their wedding due to egos," he reveals, adding that it has been completely shot in Hyderabad.
He clarifies that MS Raju had no tips to offer on the creative front neither did he interfere in the making. "Since I did 'Endukila' with Sumanth earlier, I've developed a certain bond with him. He considers me as his younger brother. He was in complete sync with my vision as I've told him in prior what I expected out of his performance in the film," he maintains, adding that MS Raju was helpful— in shielding his inexperience. "When I told him that I'd complete a particular sequence in half a day, he'd advice me to book the location for the next day too, certain that the episode requires more time. That way he was of great help. Also, he coordinated with likes of actors like Naresh and brought them on board."