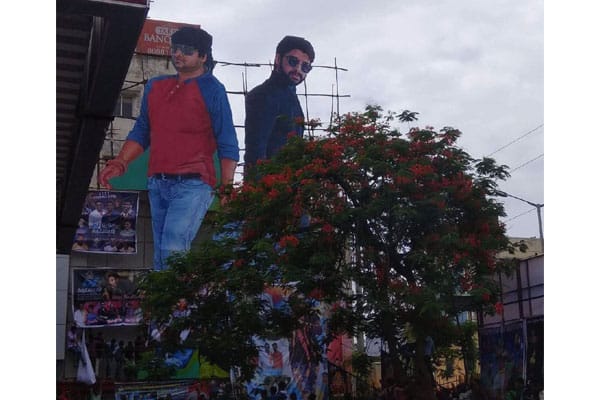 Fans erecting cut outs for their favourite heroes during the time of new releases is very common. At the reputed RTC X Roads in Hyderabad, cut outs are erected for even mid-range heroes. But, never have we seen the giant cut out of a director at cinema halls. Well, there is a first for everything.
On the eve of DJ's release, we can see two huge cut outs at the main theatre at RTC X Roads. You may wonder why two cut outs when DJ has only one hero, Bunny. The second cut out is of Harish Shankar, director of DJ. Harish's cut out would not have been this conspicuous had it not been as tall as Bunny's cut out. Not even the likes of Rajamouli, Boyapati, Vinayak, Trivikram, Koratala etc. have resorted to this kind of pompous acts despite enjoying stardom and fame.
Movie lovers wonder what message Harish wants to deliver to 'Sabhya Samajam' with his King-size cutout? He probably intends to convey, 'Content Unnodiki Cut out chalu' (Cut out is enough for the one who has content), an iconic dialogue penned by Harish and mouthed by Pawan Kalyan in 'Gabbar Singh'.
If that is the case, where is the content in DJ, Mr. Harish Shankar?