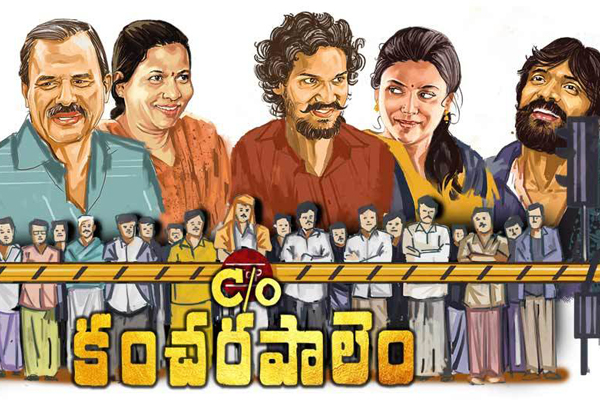 Sreekanth Devarakonda
dkshrekanth@gmail.com
In Shawshank Redemption, Andy Dufresne is serving a life sentence. He has one goal in his life – escape to freedom. After suffering a solitary confinement for 2 weeks, Andy tells Red – "there is one thing they can't get to, they can't touch, it's yours' and it's called hope".
In Castaway, Chuck Noland is marooned on an island. The only thing that keeps him alive is a hope that one day he will meet the love of his love, his fiancée.
As audience, we travel alongside Andy Dufresne and Chuck Noland in their respective quests and root for them. We empathize with their state, are enthused by their positive attitude in dire straits, feel depressed when they fail and rejoice with joy when they emerge victorious in their ambitions. And finally we pompously walk out of the theatres with our heads held high as though their triumph is ours.
Watching C/O Kancharapalem gave me a similar feeling.
Few minutes into the movie, I found myself in Kancharapalem alongside the characters. I inadvertently became part of each character's journey from start to finish. I did not leave their side for one bit. I laughed and cried with them. I kept rooting for them all along. And as I headed out of the theatre, I walked out like a monarch…
I watched the premiere of this movie in March 2018. Ever since, I have been haunted by this movie and its characters. The characters and situations kept knocking my senses regularly. It was although the entire story happened in front of my eyes and I was a real witness of those events. And shockingly, I don't recall when I felt like this after watching a movie in the last decade or so…
Spoiler Alerts Ahead…
From a high level, C/O Kancharapalem is an ensemble of 4 love stories set in a town of Kancharapalem. The movie navigates through love stories of 4 lovestruck characters belonging to different ages…
Innocent love
Sundaram, son of an idol maker, has a crush on his classmate Sunitha. Like most of us did during our school days, Sundaram waits for Sunitha on the way to school, buys a pink shirt (because it's her favorite color), buys her song lyrics book and brims with joy when she gets an applause for her singing. He even makes Sunitha the object of his desire during the inauguration prayer of his father's ambitious project building of a 30 foot Ganesh idol.
Rebellious love
Joseph works as a goon for a gym owner and falls for a traditional brahmin girl called Bhargavi.
Selfless love
Gaddam works at a wine shop and develops feelings for Saleema, a regular customer who buys mansion house from him. Gaddam learns that Saleema is a sex worker but that does not deter his love towards her.
Life companionship
Raju is a 49 year old unmarried bachelor who works as an office attender. Enter Radha, a newly transferred officer from Orissa. She is a widow with a 20-year old daughter, who doesn't believe in classism at work. The two bond over a few morning walks, Telugu tutoring sessions and a trip to the holy shrine of Simhachalam. During on such trips, Radha asks Raju to marry her.
Hope
In all the above love stories, there is one common point – hope.
When Sunitha stops coming to school, Sundaram misses her dearly. He helplessly goes around her house with a hope that he will get to meet her.
Joseph intends to turn a new leaf by accepting a decent job. His hope is he can convince Bhargavi's father and ask for her hand in marriage.
Gaddam proposes marriage to Saleema and hopes to lead a happy life with her.
Raju, although hesitant at first, agrees to the Radha's proposal with a hope that the two lonely souls, tired by life's vicissitudes would accompany each other during the remainder of their lives.
Each character hopes that their love story will reach it's shore of happily ever after. Not just the characters, the audience members also hope that characters are able to find success in love.
When the character and his love interest are having a good time, we relish them as our own. And when a character's love story hits a turbulence, we feel agitated and begin to fret.
Humanity vs God!
While essentially C/O Kancharapalem is a romantic drama, the director touched on philosophical aspects such as faith and humanity.
Sundaram (innocently and) fervently prays to Lord Ganesh for Sunitha's affection. Joseph prays to Jesus for better life with Bhargavi. Gaddam, while initially stating to Saleema that he does not believe in god, visits a mosque with Saleema and prays for a better life ahead.
Each time a character faces an anguish in love, his faith is shaken. He renounces that faith either by pelting stones at a statue, throwing away the cross in a church after silently questioning the Lord and grieving over his lover's grave.
No matter how hard a character prays, god does not seem to come to his rescue. And not surprisingly, the character shuns faith in god and turns into a believer of humanity, his fellow human beings.
In an intriguing turn of events, fellow humans from Kancharapalem come to Raju's rescue when he is being beaten by the henchmen of Radha's brother at a railway crossing.
What god could not do despite vehement prayers, fellow humans did.
Humanity over god – thus proved ☺
Feminism
Sunitha's father does not appreciate his daughter singing a song with questionable lyrics at a school function. He forcibly takes her away.
Bhargavi's father disapproves his daughter falling in love with a boy from another faith much to the annoyance of Bhargavi who rebels but then succumbs when her father attempts suicide.
Saleema, although a sex worker, possesses integrity and inherent honesty. She wants Gaddam to introduce her to his friends and drop her at the "pick up" spot just to test his sincerity towards her.
Radha, a widow and mother of a 20 year old daughter, decides to get married to Raju, an attender in her office. She wants someone traverse the remainder of life journey with her. Aditi, Radha's daughter, questions her uncle as to when a woman gets to take decisions in her life.
The director talks about how a society's perception changed towards women over time. It is evident the women folk in this movie have traversed from being a woman meekly surrendering to a man's order to an independent one who stands up for her life choices brazenly against all odds.
Love beyond measure…
While love is beyond measure and an apprehend within a few words, at times love can be measured by simple things. Sundaram goes through great pains to get song lyrics book for Sunitha while Raju brings sugar water for a diabetic Radha. Gaddam buys condoms for Saleema's safety while Joseph gives up his bad ways to lead a better life with Bhargavi.
Actors & Technicians
Most of the actors are newbies but they acted like seasoned professionals. Subba Rao who plays the role of Attender Raju is a show stealer. He is very endearing as an unmarried bachelor and entertains us with his funny one liners as well as deep-thinking dialogs. I liked the dialogs where he explains to Radha how he became a believer of humanity.
Mohan Bhagat (Gaddam) and Karthik (Joseph) suit their roles to the T while Keshav (Sundaram) portrays subtle emotions very well. Kishore Polimera as the idol maker with speech impediment did an excellent job. He also sang 2 bit songs in the movie.
Amongst the actresses, Nitya Sri is very cute as the romantic interest of Sundaram. Her cute smiley expression while overhearing Sundaram garnered applause from the audience. Pranitha as Bhargavi and Radha Bessy as Radha are realistic. Paruchuri Praveena as Saleema did a gutsy role as a sex worker and she is wonderful.
All the supporting cast from Kancharapalem did very admirable job.
Kudos to Venkatesh Maha for giving us a standing ovation worth movie after a long time. Maha grabs you by the hand and takes you on a tour of Kancharapalem. The screenplay is extraordinary and characters are true-to-life. Not one scene seems out of place and the detailing of each scene is near perfect. The climax is shocker and makes you either gasp or clap.
Writing is top class and organic. There is a lot of depth in each dialog and you can notice an underlying philosophy and realistic feel in every scene. It is impossible to create this level of (audience) involvement especially when none of the leads are established actors, which goes to reflect the director's amazing writing talent.
Music by Sweekar Agasthi is top class and compliments the scenes in a harmonious manner. I loved the background score. There is a theme for each love story. Songs come as not breaks in the story but to take the story forward. Cinematography deserves a special mention; most of the lighting was natural giving you a realistic feel.
Finally…
C/O Kancharapalem is a brilliant love story; a journey of love at different ages. Not just a journey but depicts the many facets of love in a very poetic manner. This is as real as it gets. This is one of the best movies I have watched in many years. The last time I remember correlating myself so closely with the characters was in 2001 for a movie called Dil Chahta Hai!
Hail Venkatesh Maha!!!