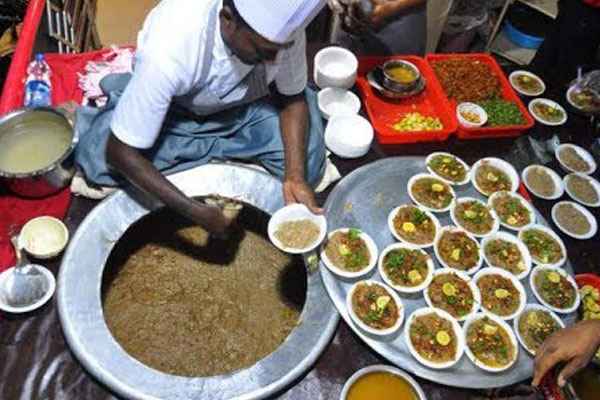 The Muslim holy month of Ramadan is incomplete in Hyderabad without the lip-smacking haleem dish.
Haleem, a stew of meat, lentils and wheat mixed with spices, is preferred for breaking the fast due to its energising nature, high nutritional value and soothing porridge-like texture.
The wide range of haleem available during the season is just amazing. With a price range of Rs 30 to Rs 160 per plate, the season's flavour is there for every pocket.
Going around this city, a fine blend of tradition and modernity, one comes across "bhattis" or brick-and-mud ovens in front of almost every hotel and roadside eatery.
Every Ramadan, the city sees a huge jump in the sale of fruits and the market is flooded with several varieties of dates, including imported ones. Stalls selling fried items and kebabs do brisk business. The special dishes of the month include dahi bade, but none comes close to haleem in popularity. It is such a craze during the fasting month that it trumps even biryani, the signature dish of Hyderabad.
It's not just the Muslims who relish haleem during the month. A large number of customers at popular eateries like Pista House, Shah Ghouse and Sarvi are non-Muslims.
As swanky cars slow down at Yousuf Tekri in Toli Chowki, popular for several food outlets, dozens of young caterers scramble to get closer to the vehicles to take orders. Sitting in their cars, young techies, businessmen, families and even tourists can be seen relishing the piping hot haleem.
Every evening, and till the early hours of the day, traffic chaos reigns supreme on this busy road which connects to the IT hubs of Hitec City and Gachibowli.
While the situation is no different in many areas in the old city of Hyderabad, some of the central parts of the city, the chaos in Toli Chowki highlights the intense competition among leading haleem makers.
Originally an Arabic dish, haleem is said to have come here during the Mughal period via Iran and Afghanistan.
The syrupy dish was Indianised with the addition of Indian spices, dry fruits, ghee and a unique style of cooking.
Chefs with their assistants are seen engaged through the day in the laborious process of making the sumptuous dish in large vessels cemented on the bhattis. The entire cooking process spanning about 10 hours is done on firewood.
At every eatery, one can spot two or more men mixing the ingredients and pounding the meat in the vessels with large wooden poles. The pounding ensures that the mixture turns into fine paste. It is served after being garnished with special spicy shorba (meat broth), carmelised onions, coriander and slices of lemon.
Haleem comes in all variants. Mutton, beef, chicken, fish, vegetarian, you name it. Every hotel claims to have its own unique taste. Some serve the mutton haleem in their own style by topping it with fried pieces of chicken, "zaban" (goat's tongue) and egg.
The price range suits every pocket. Small road-side eateries sell a plate (250-300 grams) of haleem (beef or chicken) for as low as Rs 30 while a plate of mutton haleem at popular food joint Pista House costs Rs 160.
The dish gained huge popularity over the last two decades thanks to Pista House, the brand which has gone global and claims to be the largest haleem maker in the world.
"When we started in 1998, we sold haleem for Rs 18 per plate," Managing Director of Pista House M.A. Majeed told IANS. Since then its popularity has grown by leaps and bounds and this year even before the start of Ramadan, it received about 60,000 inquiries.
Pista House has tried to introduce something new every year. "This year, we have introduced whole wheat haleem. We use whole wheat grain among other mostly natural and finest quality ingredients. We use less spices. This is exactly the same way haleem is prepared in Saudi Arabia," Majeed said.
The food joint, which secured Geographical Indication (GI) status for Hyderabadi haleem in 2010, is selling the dish at around 200 outlets in Hyderabad, Bengaluru and Chennai. Customers in other major cities in India can also get the sumptuous dish delivered at their doorstep through the Gati courier.