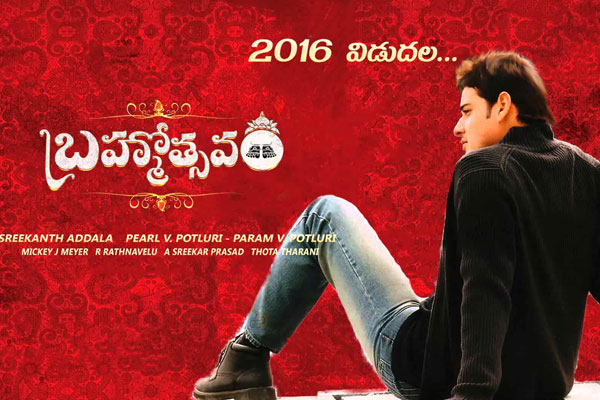 Maheshbabu's next movie Brahmotsavam, which is scheduled to be released in May 2016, has been sold for 13 crores for overseas. Classic Entertainments has acquired the rights for this prestigious movie.
According to our sources , here is the scoop on how the overseas rights been influenced and by whom. Since this is a prestigious movie under PVP banner,and on top of it overseas King Maheshbabu's previous movie Srimanthudu did staggering $2.8M in USA alone , many leading overseas distributors were in the race and finally three distributors remained with 12.5 crores to 13 crores offer.
Originally Brahmotsavam's producer PVP was said to be inclined to sell the rights to one particular banner which distributed Mahesh's first blockbuster in overseas. Madam,the force behind, who theoretically has no business in producer's tasks, insisted that Brahmotsavam rights should go to another distributor of her choice (both parties offered same price though). Poor producer tried to convince her but failed. Finally, Madam called the shots and her choice of distributor got the rights.
It is quiet common that each distributor lobbies through their best source to acquire the rights and nothing wrong if someone tries through "Madam". But, this case is slightly beyond that says a little bird in the industry ; "Why wouldn't a producers' choice be honored ?" is the disgruntle.
"Since the hero is in full demand, whatever the Madam is dictating has been honored by producers,technicians or people around for now. But, once the box-office position alter slightly, then the same people will show respectful exit to the extraneous influence or meddling in the business deals" is said to be the common opinion in the industry.What do you say folks ?
Next….what it takes to break-even if overseas rights are brought at 13 crores ? Stay tuned to Telugu360.com