[intro]The much-awaited Mahesh Babu film is squeaky-clean and shows the superstar's versatility with the subtle messages that director Siva wants to drive home – Get rich but also give it back to your Village[/intro]
Telugu360 Rating : 3.75/5
Films that promote altruism are as rare as rare-earth metals these days. By that count and the vibrancy of the title itself (which means a Billionaire in Telugu), "Srimanthudu" is an exceptionally well-made film that will go into Mahesh Babu's catalogue of best films after "Athadu" and "Dookudu". Koratala Siva, the writer-turned director who earlier made the warmth-exuding "Mirchi" returns with a squeaky-clean film that shines in almost all departments except elements of entertainment and comedy. In selecting a movie of this genre, both Mahesh Babu and the makers should be congratulated because it takes gut-level audacity to endorse a script like this which revolves around a hero forsaking his billions and family business empire to adopt a village that roots his origins.
The story goes like this. (Harsha) Mahesh is the swashbuckling son of the 25000 crore business magnate JagapathiBabu who moves in Rolls Royce cars and strikes business deals at board meetings or golf courses. Father Jagapathi Babu and mother Sukanya and the family dote on him but Mahesh  is lost in his thoughts of being a do-gooder who loves tending to the care of his corporate group employees' events and festivities, even going out of way to help them out in settling their daughters' marriage etc. He is shaping up to do something different, anything other than inheriting the Infrastructure empire his father built. Enter Shruti Hassan who casts a spell on Mahesh with her simplicity and good-heartedness. Both develop a liking for each other and fall in love but the turning point comes when Shruti reads a business magazine coverage of Mahesh and his father's business interests and finds out they hail from the same village Devarakota that she belongs to – where her father Rajendra Prasad lives. In the romance that builds up, there is a parallel narrative of the troubles spewing out of the village ruled by Sampath and gang who runs a distillery but doesn't care that people are running away from village because of unirrigated lands, and ill-maintained schools. To top it, he is acting in cohort with his brother Mukesh Rishi, who is a Union Minister, to grab over 6000 acres of land for a lucrative coastal corridor project. Sampath's menacing villainy ensures that more and more villagers flee the village, many are slain and those that remain (about 520 families) live in constant threat of fear of death.[pullquote position="right"]Siva Koratala has shades of a Trivikram who knows his lines well but also feels a responsibility for going home with just one or two messages without dilution and ambiguity. Director Siva makes the film intense and neat with most of the characters playing their parts well without hype.. [/pullquote]
The turning point of the film comes when Mahesh enters the village and "adapts" it as his home, right outside Rajendra Prasad's house and tames the villains and the herds who are hurting the village. The ending of course is a happy one but the narration of 163 minutes that goes into this simple tale is something unparalleled in Telugu films used to propping up of un necessary comedy tracks, deviant side-tracks and dozens of side-villains, mindless violence and unnecessary stunts, besides reckless dialogues that reek of double-meanings and vulgarities.Koratala Siva has used the medium of cinema to incorporate the elements of a story that he believed will resonate with most people who are leading urbanized lives disconnected with the plight of conditions which motivated them to chase affluence in the first place. There is a laser-sharp clarity of script and the storyline never deviates from the beginning, building up the characterization of Mahesh with a layered-approach. It starts slow in the first half, establishing the context of the environment in which Mahesh grows and then goes into the subtext of the world that is about to disrupt his fluid state of thinking. It reminds you of some of the films like "Swades" and "Athadu" in some scenes but broadly, the narrative is quite original and non-flashy, that is what makes the film a visual treat to watch with exceptional cinematography by Madhie –who makes the scale of the film bigger and colourful than what it normally appears. Instead of using props of star comedians and bazooka dialogues, director Siva has subjugated the entire script and screenplay to the weight of the story that has just one flashback in the second half. Packing plenty of substance in his heart-tugging dialogues, Siva generates a reel-by-reel buildup in the appreciation one develops for Mahesh's character of Harsha before it reaches one high point before interval and then takes it to another level after interval.[pullquote position="left"]
"Srimanthudu" is a whole-hearted family film which will see many politicians, diaspora and the affluent from various walks of life talk about this film for a long time.
[/pullquote]
Director Siva has shades of a Trivikram who knows his lines well but also feels a responsibility for going home with just one or two messages without dilution and ambiguity. Because of that obsession, some elements of mass appeal were given a big miss but they should not matter in the overall reception of the film. Family audiences have a lot riding on it – there are at least five or six emotionally-surcharged scenes which moisten your eyes and the underlying theme of going back to one's village more than once a year for a Sankranti is dealt with lot of impact and intensity. The film highlights the real reasons for villages abegging for attention and not just a closet-cupboard for hoarding all the development funds – there is a good lineation of how funds are siphoned off, how irrigation is neglected, why schools which are supposed to be building blocks are in perennial shambles, and how apathy that begins with ambition eats into the inside of a village in the name of urbanization. Director Siva has made a good study of issues that are even highlighted in landmark books written by P Sainath ("Why Everybody loves a good drought") and gave a credible perspective through this story on what can get the villages back up as lively hubs of habitation and prosperity. What he misses though is an opportunity to get some of the shinier aspects of village life which are seen in full glory around festival time in picture frames; most shots are distressing and depressing, but that may not be happening everywhere. Also, by showing the entire village as living under the grip of hooligans, director may have over-simplified the concept of lawless villages – there may be many such villages in India in a country which has 650 districts and numerous villages but a better approach would have been to institutionalize them. For instance, Mahesh's company itself is a shown as a successful bidder for Highways and other infra projects. Nothing would have stopped him from enrolling his own company's paraphernalia into the overlaying of the rural amenities that are absent in his native village.
But the heroism is essential to elevate the character of Mahesh and make a point on making a difference to the ecosystem that made your world once. Director Siva makes the film intense and neat with most of the characters playing their parts well without hype.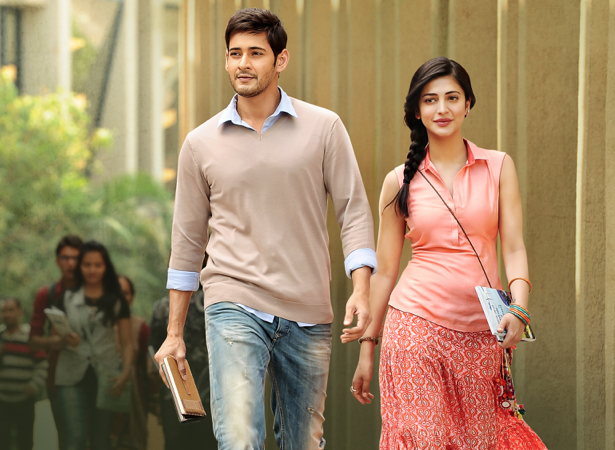 [pullquote position="left"] Mahesh Babu, undoubtedly is the star of the film. He carries all the weight on his shoulders and outshines everybody with his minimalistic acting and dancing. His dialogues also stand out – and fans will love his powerful punches. [/pullquote]Most characters are well-sketched and exude authenticity except two roles which stick out like a sore thumb –One is Jagapathi Babu, who looks unconvincing as a father who never knew what his son's cares are and Sukanya, the mother who barely connects with her son. Both of them look what they may be meant to be –plastic versions of Forbes Billionaires. In an earlier film of Siddharth, "Nuvvosthaanante Ne Vaddantaana", the same treatment of apathy of parents and sympathy of son for village life is shown as highly-entertaining but here Siva takes a serious approach. But for them both, the remaining characters are credible. Rajendra Prasad, as the defacto village leader who shields the good – from the bad forces gives an outstanding performance. He plays with a remarkable dignity and maturity the role of a serious villager whose heart pines for people suffering in front of his own eyes – but the director has forgotten that Rajendra Prasad has a funny bone; atleast one or two punch dialogues suiting his regaling personality would have done perfect justice to his role. Sampath and Mukesh Rishi try to outdo each other as villains but Sampath still has the last laugh as the villain who can play so many shades. His character baffles you with a million doubts – is he good or bad, does he like Mahesh or not, what is his real motive in staying so silent against Mahesh for so long? Shruti Hassan looks demure and cute, as good as how she last looked in "Race Gurram". Her chemistry with Mahesh is great and she comes out every inch a grounded person who's heart lies in her roots. Her screen presence also surprisingly matches step with Mahesh– the lengthy romantic buildup in the film also gives some relief moments to the audience; you don't usually see Mahesh chasing beautiful girls. But let me also correct, you don't say "You are beautiful" to boys (That's what Shruti says to Mahesh once –boys are either charming or handsome). Shruti's dancing and dressing all come out good in the songs and sequences with Mahesh. The ones who don't fully make impact or get utilised fully are Vennela Kishore, Ali, Subba Raju and Rahul – all of them have half-developed wits or under-developed characters with the result, one gets an empty feeling watching them perform.
Mahesh Babu, undoubtedly is the star of the film. He carries all the weight on his shoulders and outshines everybody with his minimalistic acting and dancing. After a long time, he gets a role where his body-language syncs with the character of a Richie-rich boy who serenedes a glam girl and does good action and emotional drama on-screen. His dancing skills are not so well-known as those of his contemporaries but he manages to uplift himself with some groovy moves that look gorgeous on-screen, thanks to some exceptional attires – dapper suits, gentleman hats and all that. His dialogues also stand out – and fans will love that he has more punchfuls in store than what the trailer unleashed. The scenes where he packs a punch are the scenes with his father and mother where he asks them to leave him alone for just this one life, another scene with Rajendra Prasad and his brother Edida Sriram when the latter wants to leave for the city, and at least two confrontation scenes with Sampath. The songs have already become popular thanks to excellent music by DSP and lyrics by Ramsjogayya Sastry and each song is picturised in stylish costumes and good settings. The background song of "Srimanthudaa" is a real scorcher on-screen that repeats in tandem atleast thrice, once in slow tempo. All other songs look colourful and grand on-screen. The only inconsistency slipped in with Mahesh is that there are at least two occasions when Mahesh is shown flipping through magazines which are inconsistent with his characterisation – once, he flips through "Astroview", another time this altruistic and charity-minded businessman's son leafs through "Outlook Money" magazine – both are unnecessary. Of course, the occasion that he distracts himself at a board meeting with a video game is just apt. Director Siva has used the body language of Mahesh to perfection – one or two stunts are refreshing.
On the whole, "Srimanthudu" would have been near perfect had it been edited for 25 minutes or so. That is one of the things that subtracts a good rating from the movie – because viewers have short attention spans and may not relish 163 minute duration. The first half also appears slow compared with the power-packed second half. But director Siva has given us a credible and emotionally worked up tale with all the sincerity and clarity that will go down as one of the most-respected films of our time – with top-notch production values and commendable performances by almost everybody. (Yes, even Jagapathi Babu redeems himself with the sole flashback sequence). We need a mean reversion like "Srimanthudu" once in a while to get back to the basics of what we can take from and give back to the society and also weave message-oriented cinema with straight and non-manipulative screenplays as used in the film. Otherwise, as the hero and the heroine say in the film – "We will become fat." The film has just one or two instances of violence that may have earned the U/A rating. Otherwise, this is the cleanest film in years. We need more films like this to go back to the golden age of cinema. With or without entertainment and star comedians, "Srimanthudu" is a whole-hearted family film which will see many politicians, diaspora and the affluent from various walks of life talk about this film for a long time.
Telugu360 Rating : 3.75/5