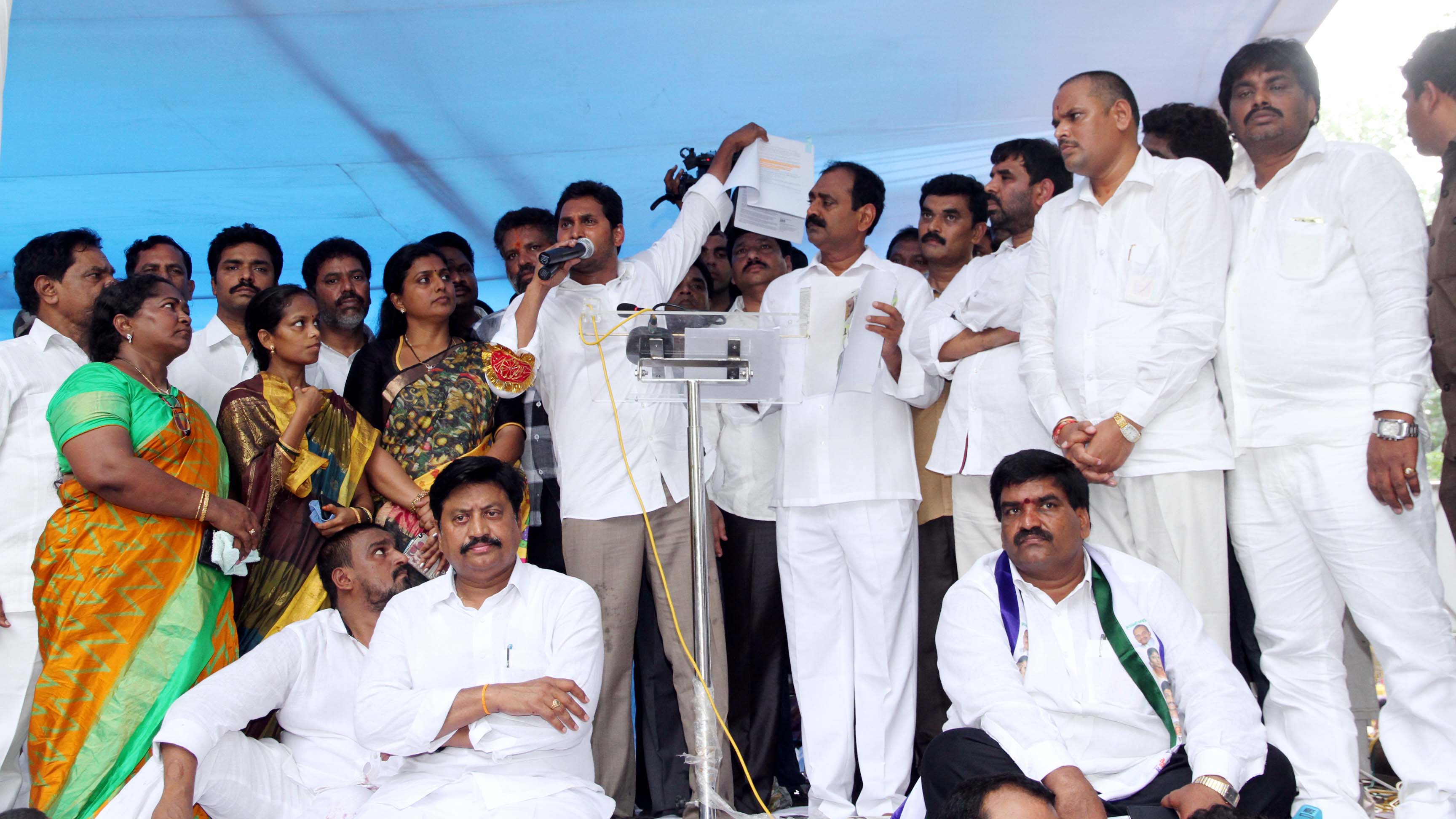 YSRC Congress has called for a statewide bandh on August 28, just before the commencement of  Assembly session. Sharpening his attack with the martyrdom of  Muni Koti,  Jagan today lashed out at the BJP leadership at centre and TDP supremo Chandrababu Naidu at state for  ignoring the crucial demand for special status to Andhra Pradesh.
Jagan led a massive dharna near Jantar Mantar opposite Parliament on Monday, in which thousands of party workers from Andhra Pradesh participated. Giving an indication to shape of the political realignment  to happen in the state, CPM general secretary Sitaram Yechuri came down to the Jantar Mantar to call on Jagan and expressed solidarity with YSRCP on the demand of Special Status.
"We will support Jagan and his party on the issue," Yechuri announced from stage.
He said the CPM would voice its concern in the Parliament and outside by participating in various dharnas.
"We had opposed the division of the State in the Parliament when the Bill came up for discussion. we had also said that the division would lead to many problems in the coming days. Our forecast is coming true. Still, We are extending our support to the cause of special status at all fora,' the CMP general secretary said.
Observers see Jagan's support to tomorrow bandh call given by CPI, and today's CPM support to Jagan as an indication to a possible opposition unity in Andhra Pradesh against  the ruling TDP-BJP combine.
Jagan may use the centre's apaty  and TDP's silence on the Andhra peoples' demand for special category status to achieve a modicum of unity among the opposition parties. Left will have no reason to join hands with as long as Naidu is in Saffron company.
In a way YSRC and Left parties appear to have come together. The other parties,  Congress and Lok Satta, can't maintain distance, in case these parties announce an action plan.  Who is to be watched is the hero Pawan Kalyan. He may have to take a decision against the wishes of BJP central leadership and TDP leadership in the state. Most likely scenario is that he would  disappear from the scene in the name of movie shooting as he doesn't rub Prime Minister Modi on wrong side.
Addressing the dharna Jagan said  Andhra Pradesh could not be denied special status when North-Eastern states were brought under special category protection to overcome their problems.
He assailed TDP for trading peoples interests with his personal agenda and maintaining stoic silence even though NDA minister openly denied the special status.
The fight will not stop here, Jagan asserted stating that the YSRCP would take if forward.
He gave a call for state-wide bandh on August 28 and appealed to the people to make it a success.
"It is very unfortunate that one person,MuniKoti, resorted to self immolation, seeking special status as he had foreseen that at least one generation wiould suffer in backwardness if the special status is denied," he said.
He was critical of Rahul also for having forgotten the demand for about 15 months.