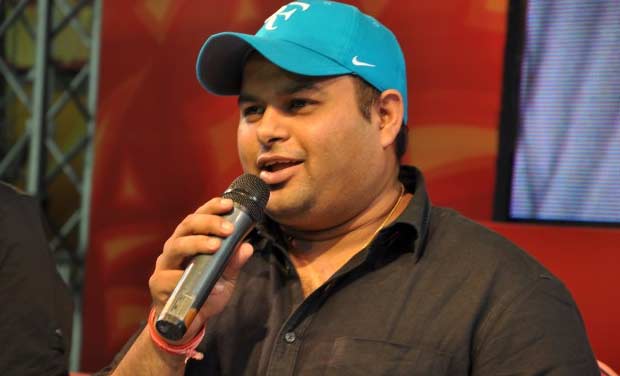 Thaman, the little teenager in Shankar's Boys and the grandson of late filmmaker, Ghantasala Balaramayya is in the busiest phase of his life. Churning commercial successes with his albums one after the other relentlessly, he's made his presence felt in Tamil and Telugu industries substantially. With about 60 films to his credit now, he's been the go-to man for energy-driven numbers in films. He's always caught in a time-web with respect to his work, but he pushes himself so hard which he says is one of the reasons that Kick 2, his next release will even outshine its prequel, all in this exclusive interview to Telugu360.com
How different is the sequel?
Kick 2 has a better script, more entertainment quotient and so is emotion. It has a very good story line and gave us a good task to complete at the end of the day. There is nothing to compare but it is just the attitude of the hero that you will enjoy. Keeping RaviTeja's body language in mind, his energy levels and how he works ,the director has made the film.
What is the subject point here?
Most directors come with a template script because his fans demand entertainment but the actor is capable of lot more. He can carry any kind of role as we saw him in his previous films. Surender Reddy gave him an 'attitude' in the first part, here it is 'comfort'. Comfort is his first priority, Wherever he is not comfortable, he can't be there. One song runs on the comfort factor, Mummy Kadupuna.
Any pressure to come out with better output?
The director extracts music well and knows what I am capable of. People asked him why he was taking a new music director for Kick. The previous film of Surender Reddy flopped and Ravi Teja also required a hit. Amidst a lot of pressures, he trusted me and my music and all his albums have become blockbusters, be it Kick or Race Gurram.
Tell us about the numbers in this film
There are lot of commercial scripts coming to me. In fact, out of my 60 films, 50 to 45 are commercial oriented films. They have similar templates. I have done lot of commercial films but Kick 2 is different, has a very good script and is completely story driven. Generally, heroes have attitude, but in the Telugu industry, they are blessed and the fans love them so much. Fans run the film. I work for many languages but it is only here that the fans love them so much. It is because of them that 50 percent of the film goes to a different level. Even I work like a hero's fan and for Ravi Teja, his songs are full of fun and tikka. Songs like the teasing numbers, Vaishali, Kannetthi choodake, Kajal chelliva are meant only for him. However serious is the scene, he can solve the problem easily. We have to match his screen energy and his dialogue delivery. Yentha slow songs ayina, entha melody ayina, energy undaali for him.
The best song in Kick 2 ?
Janda Pai Kapiraju is one of the best songs I'd composed for Kick 2. It changes the entire mood of the film from the second half. When I saw the song, I was so happy Surender had picturised it so well. More than anyone, the DoP takes the first place in this film. Kick 2 probably has the best cinematography ever. I give the entire credit to him. When you see it on 21st, you will know why I am saying that.
Tell us about the DTS?
Surender Reddy is capable of translating his vision onscreen and this will be the biggest hit for Ravi Teja. Tapas Naik, the sound engineer who'd worked for Rang De Basanti, Taal, Race Gurram has done outstanding work. The aspects of finance, the release date give a lot of pressure when it reaches post production. When the film shoot is over, we think the entire work is done but that is not true. The whole film is getting ready in the DTS theatre, be it the dialogues, effects, background score, all fall in the post production category. The cooking is good but the final decision is taken by the DTS engineer. We have to trust him a lot.
We go through a year's journey and we finally give it to him. After Madhusudan Reddy, who is no more now, Naik took his place, who has everything in him to become a number one engineer. There is a lot of new technology like the Aura 3D sound and Dolby Atmos. The Baahubali team took a lot of time in post production work than the actual shoot. It has taken digital media to a different level.
For Kick's background score, we had just five and a half days and at that time, Magadheera was approaching. But for this sequel, we had 22 days which was plenty of time. For Race Gurram too, we had good time, about 16 days that we spent on DTS and we were able to notice how people enjoyed in the theatres. The result makes us happy. Baahubali also made our post production strong in a way, Thanks to it.