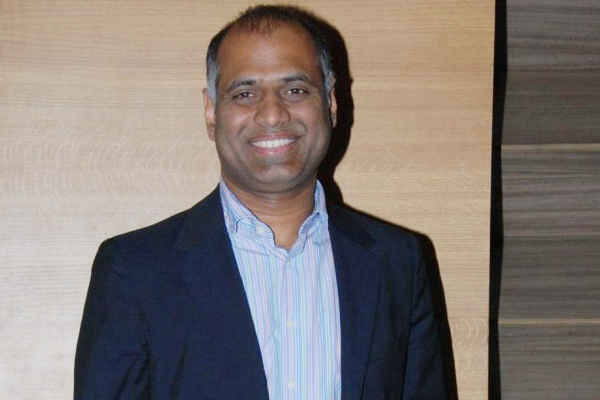 Prasad V Potluri is one of the rank outsiders from outside the Entertainment Industry who has infused new blood of professionalism, creativity and innovation in creating some of the most exciting films down South. In this free-wheeling chat, PVP, the producer talks about his days of serial entrepreneurship, forays into financial services, films, financing and production. Of course, he talks about the most-awaited movie of the year – "Brahmotsavam". Here's the most candid conversation that gives a glimpse about the man, his passion and his range of interests.
Will Brahmotsavam complete a perfect hat-trick for your company ?
Hopefully, by God's grace. Nothing is in our hands. We have seen success and failures in equal measure. But we put in our best effort and hope Almighty will be kind to us.
Can you tell us about your background as an Entrepreneur before venturing into movies.
I hail from a small middle-class family in Vijayawada. I left the city in 1994 to pursue higher education in the US. I didn't get a Visa to the US because I didn't have the best of credentials to support. So I went to Down Under for my Master's into the Queensland University where I studied while juggling with odd jobs at the Rest Rooms, Gas Station and Restaurants. Eventually, tenacity pays and I tried for a few more times. Finally, in my seventh attempt, I got a single-entry visitor's visa to go to the US. It was what providence willed, like a movie really. I went to the Graduate School for MS in Technology Management and landed in the US with 160 dollars in my pocket (all the money I had as a Graduate) with a belief that America is the land of Opportunities and the faith that it was a level-playing field.
It was right time, right place. The next nine months was quite a struggle as I didn't have a clue, lost a bit of orientation and many people I knew back home didn't call so I was disillusioned. At that time, I thought I am happy to go back home and plough the land. But I bought into the American dream and started a small firm with a desk and a chair with a $100 investment. That's it. The world was in a mad rush with Y2K and opportunities were coming your way every day. My firm was tied up with PeopleSoft. I started doing projects in PeopleSoft and in 27 months my company grew from a desk and chair to a 250-man company. In November 1998, I sold that company to RCM Technologies for $30 million in a well-noted transaction. Credit to Almighty and America.
Then you joined Karvy Group?
Yes. Post-sale of my company to RCM, I got an opportunity to participate in KARVY group where the partners "K" (Mr Kutumba Rao) and "A" (Mr Ajay Kumar) sold their stake to me in 1999. I came back to India and after my entry into Karvy, I got exposed to the Indian outsourcing space. I then bought two e-business solutions companies called Albion and Orion. Later called as Albion Orion where the delivery was done back in India. That was in early 2000. An Indian company based in Chennai made an offer to me to sell out which I couldn't refuse. SSI was the company that I eventually sold my company in September 2001 – it was the largest cross-border deal. I moved to Michigan for five years then. After that deal, I had a friend who worked in McKinsey in Europe and so I decided to move to Europe and explore the markets there because my wife and I were mobile. I moved to London.That led me to the third-adventurous move of my life. The first one in US was "right-time, right-place". The second one (ALBION) was"first-mover". The third one was a cue we took from MckInsey in Delhi. We coined the word KPO (Knowledge Process Outsourcing). We were the first one to coin it. We started a firm called Irevna. The word means Research in Greek. We began that firm with 25000 employees in Karvy House in 2001. Two weeks after that, 9/11 attack happened. It shook us. But we stuck to course for one year and delivered what clients wanted. Deutsche Bank gave us the break. After that, I moved out of London to New York to expand the operations of Irevna. We took off in a big way. In 2005, I sold that company to CRISIL, the credit-rating agency. That was the best endorsement to sell a company acquired by a reputed agency like CRISIL. The company we sold delivers 60 per cent of the entire profitability to CRISIL. Irevna was the first Analytics and Research company in India. When I was doing the deal, I spent nine months in India as CRISIL was simultaneously being acquired by Standard & Poor. That was when I decided to move back to India…
Which year was that?
2007. After that deal, we took over a large industrial mill in Chennai called Binny Mills. We diversified into Power Generation. That was when we went into an air pocket (rough weather for business). We tried to acquire a power plant. From real estate, we diversified into power generation – (gas-based). We had an agreement with Lehman Brothes (which had spectrum power). And then Lehman Brothers went down. That eventually made us back an Indian Management who was in the agreement and we exited that.
Was that the only air pocket you hit in your career? How did you enter movies?
Not really. I have had many air pockets in my journey so far. There was a real estate transaction in Hyderabad that we entered into that went sour. The next three years were unpredictable and uncertain times for business. It was during that period of vagaries that we invested into Saakshi group as investors. That was our first foray into media and broadcasting business. We came under the scanner for doing that and like every other shareholder we went through some exposure. At that juncture, I took a decision never to enter into any business, medium or vertical that has excessive regulation. That was when I got into Entertainment.
How did you emerge unscathed out of the whole Saakshi episode? People thought you were close to Jagan?
That's because we didn't own a single square inch of land. We were pure investors and didn't get anything quid for quo. We never had any questionable transaction. We were just seeking a return on investments and entered the transaction prior to YSR's death and post-death also. That was our submission to the government. Why would any businessmen continue to invest in a business post-death of YSR also? A large part of investment still stands post-death.
Why Entertainment?
We decided for Entertainment for simple reasons. One, we were passionate about it. Two, we viewed Entertainment as part of India's Consumption Story . The most talked about aspect of India's consumption story was 50 per cent of Indians were below 35, and everything from FMCG to Cereals was red-hot. The unsaid part of this story was that in South India, especially in Telugu and Tamil movies, they constitute 40 per cent of the entire Entertainment industry. It was a Regional Consumer Story here. With that conviction, we formed PVP. It was a rough ride, first three years, as it took time for us to understand the business and the ways of doing things here. We began as a financier then graduated into production. We can proudly say, we are the first Corporate House to establish in this line in Film Industry in the last 75 years. The goal was how do I replicate a Vijay Vahini Studios and we wanted to aim for leadership in both the markets. We like to believe we have been prolific so far earning successes and failures in equal measure. But what we have achieved is credibility and goodwill in these years of setting up business. Wherever we compete, our USP remains Whatever we represent, we deliver. The artistic fraternity is now well-familiar with PVP because we are tough, we are straight and that we live and die by our word. That's the reputation we built and we are stuck to it.
How many productions have you completed?
We have lost count but with "Brahmotsavam" we are into our 17th film or so. In five years, we financed more than 100 films. Our first film was "Raja Bhattai" (Tamil). It was stalled when we financed it, so we took it over and completed it. Then we did "IranaMulugam". Tamil was always tough to crack so we entered it first because Telugu was always easy to crack. We slowly entered both once we understood the content, the work-practices, the production and the teams around it. Now we successfully built our teams and we built enough practices, and put systems and processes in place. We earned tremendous respect from the film fraternity. People know when we take up a product, we are passionate about it, irrespective of the outcome. We put in a 360 degree approach when it comes to marketing, positioning, presenting.
Tell us about your think-tank behind all this.
I have a professional setup of young professionals who want to work with us. A lot of planning and thoughtfulness goes into what we plan to do. Few things may not go the way you planned but practice makes you perfect. Once you start learning the craft, you keep getting better at it. You stepped on landmines, you develop a sense of what not to do.
Where is the future you see in Tollywood? Financing or Production?
I would say Both. We will do both but we will be very choosy in Production. We have understood what works. We will not rush into something unless something excites us genuinely.
How did you land some of the recent projects? Take us through your experience with Oopiri, Kshanam and Brahmotsavam.

Kshanam is something we developed completely after we were approached with the idea two years ago. We spent 18 months developing the story, the script of Kshnam, the content, post-production reviewing right in our offices. The whole team lived in our offices for an year and a half. It is organically, evolved content. Writing itself took six months. Every day, if you had walked into our office, you would have seen them working on the script, day-in, day-out.
Same with "Oopiri". Vamshi came with an idea about the French film. I personally went and picked up the rights of the film from the French producers. We personally went and did the rekkis in Serbia, Paris, Lyons…the effort that went into was unbelievable. What you see in the film for just two hours is different from the effort that went for more than two years into the film.
What about "Brahmotsavam"?
"Brahmotsavam" was an association we wanted to do with Mahesh Babu for a long time. We spoke to him for some scripts but this script I heard for the first time on .Vijayadasami Day in 2014. We did the pooja on Krishna Garu's birthday on May 31, 2015. And its coming out now in 2016.
What excited you about the film?
There is some kind of a personal connect with the script which I will reveal post-release. There is a personal connect I had with the values the film espouses, the belief system of the script etc that I subscribe to in life as well.
How did you find SrikanthAddala?
Srikanth is an earthy director. What excites me most about him is the nativity, the milieu and his understanding of the Telugu culture. His stories and thoughts are based on real-life events.It is something that people can connect. I am the sort of guy who has rich memories in life so I found an easy connect with him and the film. I have also been close to childhood friends and family.
Tell us about the starcast…

You will be shocked when you see the number of stars in the film – Revathi, Satyaraj, Jayasudha, Naresh, Rao Ramesh, Tulasi, Easwari Rao, Krishna Bhagwan, ShayajiShinde. Three female leads – Kajal, Samantha, Pranitha..you should tell what is the buzz on the street. IT is a film I am very proud of. Let's hope people will watch it large numbers. Rest assured, this is going to be a film that will be most talked about for its rich production values.
Music is already a hit. Did Mani Sarma score the BGM as he did in SVSC?

NO. GopiSundar scored the BGM for the film. Mickey has given a great song album though.
How was it working with Mahesh?

Probably, every producer gives the same clichéd answer. Right? Let me tell you what exactly it is. I have known many celebrities from many walks of life. From Football and Cricket legends like Sachin Tendulkar, leading industrialists and film stars from across the country. Mahesh is THE most exciting star to work with for me in my entire career for two reasons: One, his grounded-ness and easy-going nature. He is the most grounded guy you'll ever find. Two, he pushes the envelope with his passion for work and sense of perfection. Eighteen hours a day, he is only thinking of cinema, living cinema and breathing cinema. And I am a guy who is motivated to do work with such people. My excitement comes not from his being a big star but his passion for films. That is infectious, right?
He is also a co-producer…
Yes but he is super-grounded guy. This is the first time, a producer played an active role in scripting to casting to production to post-production. These days the role of producer is diminished as you know. This is one of the first projects where there is acomplete team effort. Every stakeholder can raise his hand and say, "Boss I have contributed to this film.". From Production designer to the director, everyone has contributed in a way that is visible to the naked eye.
What is the role of Paruchuri Brothers ?

They are more of script coordinators and sounding board for discussion sake. We just wanted to leverage their seasonal inputs for shaping the script because of their years of experience. It was more of SrikanthAddala's vision and another writer called Krishna Chaitanya, a writer called Khadeer, so quite a few sounding boards.
Tell us about the coup pulled off – Abishek Pictures winning the distribution rights over established heavy-weights.
Well, they were aggressive. But I am not aware of oligarchies in distribution and not exposed to that area much. I am not here to ruffle feathers in distribution. I am here to challenge orthodoxies in content creation.
Your productions are also quite agile and turned in quick time…
Lets see. God has been kind to us. If this film clicks, I will be able to talk more confidently about these aspects in greater detail. Lets leave it at that. I don't want to be labelled as a one-trick pony or wonder because many producers have come and gone in Tollywood with instant success that couldn't be sustained or scaled up. If the film clicks, I will be able to speak more confidently, not arrogantly.
Any other USPs of the film.
It is a film that one should go and watch with near and dear, extended family and friends. Watching this film solo is unacceptable. It should be like an Utsavam, reconnect with folks and spend quality time together. Kids are on Ipad, you are on your phone, elders are watching TV serials, where is our interaction? I want this film to be like a cultural revolution.
What are your forthcoming projects?

Will be working with Mahesh again and a few other film stars. Our next film is a bilingual project in Hindi and Telugus. The shoot is already done. A film called "Ghazi" – India's first submarine war film. It is our debut in Bollywood and we are targeting for end-September-October release this year. The starcast has RanaDaggubati, KayKay Menon, Atul Kulkarni and Tapsee. The crew: Editing by Srikar Prasad, Cinematography by Madhie and a debutant director Sankalp Reddy. It is a concept film, first of its kind in India. Ghazi is the Pakistani submarine which came in the eastern shores of India and it was sunk while Pakistan claims it got stuck in the fishing nets and there are multiple story angles to it. The submarine is still under water, it has a partriotic angle with a love story.
What is your advice to aspiring writers and directors when they come to you for scripts?
What we are looking for is a breath of fresh air. We don't want to hear clichéd lines and clichéd scripts. We want to hear new-age entertainment. Our repertoire speaks of our intentions in redefining entertainment – from "Size Zero", "Kshanam", "Oopiri", "Brahmotsavam" and "Ghazi". PVP today stands for something: commitment to our word, commitment to the craft of film-making and the values we believe in.
Is your interest in Politics for real?
That interest is not just about politics. It is about understanding the aspirations of the common man. I have been the product of a society which gave an equal level-playing field. If you understand this statement, my progress was far more in the Western world which looked at the work I did that helped me progress. The question we have to ask in India is: Is our society an equal level-playing field. Do my driver's kids, if they have time and talent with them, all things being equal, have a better chance of excelling my own kids? That's what bothers me the most. That is my singular focus. I may not be able to provide a solution but how little can I make a difference in creating an outlook towards an equal level-playing field. Atleast for the next generation. These are some of the issues close to my heart and if there is a way to make a difference, I would love to focus my time and energies towards that. That's where I come from.
What about scripts that have such messages?
Absolutely, I welcome such scripts. But entertainment is entertainment. But if there is a way to embed such messages, why not?
How did you develop such a good ear and taste for films?
I have seen the world from very humble beginnings in a rural environment. I have seen the range of life from that end to travelling in private jets. Being fortunate to h see such a wide variety of life from around the world. Very few Indians would have got such privilege as I have got. But now, you don't see such a rural climate anymore. That environment doesn' exist anymore for the current generation. The image of a bunch of people sitting under an oak tree and discussing things is just not there today because they are now seeing TV instead. I grew up n the environment where I peddled through cow dung roads and sugar-cane carts, we milked cows. We are the last generation to experience these things. After that, the advent of internet has changed our world beyond recognition. We have become westernized and experienced the high-stakes game of our lives. We built companies and sold them for high bids. Having done all that, we haven't forgotten our roles. This wide exposure of life has given us groundedness and also sensibilities – an ear for the good things in every walk of life. I can understand a village drama, a sports drama, a submarine war film.
What are the films you like?
I like human drama the most. Barring fiction, I like everything else. I like emotional drama. I also reject a lot of scripts in the daily grind of listening to many scripts.When you take a tough stand in the industry, you will be hated. You are not in the popularity contest, you are here to make good cinema. I want to create something like Vijay Vahini Studios and go beyond what they have achieved. I understand that cinema is too small for the scale of organizations that I have built but this is a creative process where we learn every day, as long as we are moving in the right direction.
Your commentary on the marketing aspects of the film.
We have put in the same effort to market our films just like "Bahubali" has done. We have redefined the marketing of films.