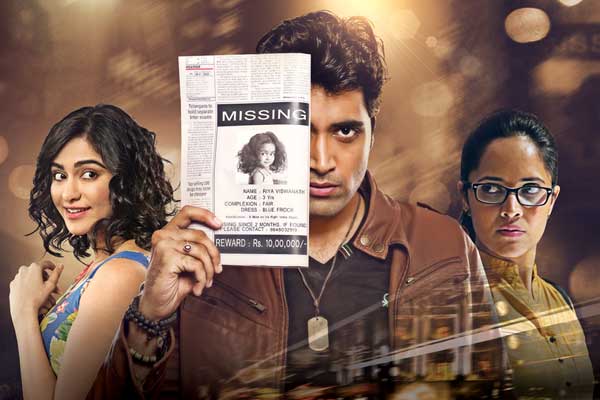 Kshanam Movie Review
"Kshanam" movie, starring Adivi Sesh and Adah Sharma in the lead roles , is touted to be a suspense crime thriller. Trailers of this movie had created positive buzz prior to the release. Produced under PVP banner this movie features popular TV anchor Anasuya and Satyam Rajesh in other important roles.Debutante director Ravikanth handled this project and Let us see if Kshanam movie made its mark or not.
Story :

Kshanam movie has an interesting story line. On a busy work day, Mr. Rishi ( Adivi Sesh) who runs an investment firm in San Francisco gets a call from India from his Ex-GirlFriend Shwetha (Adah Sharma). Surprised to hear back from her after 4 years requesting help, Rishi rushes to India. The help that Shwetha seeks is to find her little daughter who was kidnapped by unknown miscreants. The police closes the case after investigating couple of months with no result,and neighbors say they are not aware of Shwetha having any daughter, Rishi gets confused yet more determined. Adding to the confusion, Shwetha's husband and his drug addict brother's behaviour draws more attention towards them. What happens next ? Whether Rishi will be able to find the culprits ? Is the daughter really exists ? What is the help police are able to provide ? Watch "Kshanam" to know. The Story has many twists through out.
Lead Actors:

Adivi Sesh as Rishi, Adah Sharma as Shwetha are looks wise appear good in their roles, but performance wise could have done better. If suspense and the deep pathos in those scenes are enacted well, movie would have been more engaging. Comedian Satyam Rajesh got a serious,honest cop role and succeded. Anchor Anasuya as ACP done a fabulous job. Ravi Varma and Vennela Kishore got important roles in story and done justice.
What worked well ?

– Story has maintained suspense levels throught out and succeded in making audience keep guessing
– Scenes and locations are quiet natural
– Interval Twist
– Gripping narration
– Good climax
What should have been better ?

– More budget should have allocated for this good plot
– They should have extended movie with more sweet love story in the flash back. Now movie has just 110 minutes run time. Instead of 10-15 minutes love story had they done 30 minutes one, both time wise and commercial wise it should have been better
– Casting ( which obviously depend on budget) should have been better
– With just two songs, less commercial value
– Too many deaths and murders
– Few Inconvincing ends in the suspense tale
Technicians :

Director Ravikanth did a good job for a first timer. Music is nothing much to mention but background score is good. Photography is good and rustic locations as per the crimes scenes been showcased well. Adivi Sesh as story writer deserves appreciation.
Verdict :

You may watch this movie if you like suspense crime genre movies. At just 1 hour 50 minutes duration, for others, this low budgeted movie offers less value. Overall, a Good attempt and may recover its investment ( shoestring budget of 1 cr 10 lakhs) at Box-office.
Telugu360.com Rating : 2.75/5

Cast : Adivi Sesh ,Adah Sharma, Anchor Anasuya, Satyam Rajesh, Vennela Kishore
Director of Photography : Shaneil Deo
Dialogues : Abburi Ravi
Story : Adivi Sesh
Screenplay : Adivi Sesh and Ravikanth
Music : Pakala Sricharan
Producer : PVP Cinemas
Director : Ravikanth Perepu
Released on : 26 February 2016
Duration : 110 Minutes