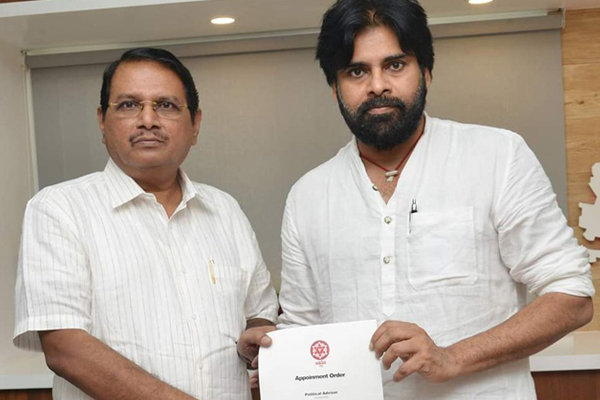 Former chief secretary of Tamil Nadu, Ram Mohan joining into janasena yesterday raised several debates across political circles. Ram Mohan, who worked very closely with Jayalalitha, spoke very high about Pawan while joining into the party and Pawan also praised his administrative skills and reminded that he ran the state successfully when Jaya Lalitha was in hospital. However, because of the controversies surrounding Ram Mohan, some people started questioning genuineness of Pawan. But it seems there are specific reasons for Pawan joining Ram Mohan into the party.
He is specialist in formulating welfare schemes:
Many people say, he was not only chief secretary for Jayalalitha in administration, but he was also personally close to Jayalalitha. People in political circles say, he played vital role in formulating the welfare schemes of Jayalalitha. It is known news that, most of the schemes of Jayalalitha are stupendous hits and later copied by many states including AP and Telangana.
For example, Amma canteen scheme, maintained by women self help groups in Tamil Nadu was instant hit and now implemented by both AP and Telangana. Another scheme, Amma water, also implemented in AP as NTR Sujala Sravanthi. Amma baby care kit scheme, in which every mother who gave birth in the government hospital gets 16 types of products worth Rs 1000 without paying a penny, is the scheme that inspired KCR kit. Schemes like AMMA laptops for school going kids, 'Gold for marriage' scheme, AMMA mixies, grinders, AMMA insurance, AMMA pharmacy – all these schemes helped Jayalalitha to come back into power. In fact, these are just to name a few but, the word 'AMMA ' became synonymous with welfare in Tamil Nadu.
Now, many political analysts are saying that, Ram Mohan was one of the members of Jayalalitha's core team that formulated these schemes and so they wonder if Janasena Chief wants to utilise his services in preparing manifesto. Moreover, it looks like Ram Mohan has been in touch with Pawan Kalyan since quite some time.
Overall:
Last week, many eminent personalities who impressed the likes of Abdul kalam and Amartya Sen joined Janasena. But many media houses kept quiet at that time without even passing any encouraging comments. But they are passing many questions on Ram Mohan joining janasena. It seems like Pawan wants to utilise his skillset in administration and formulating welfare schemes for janasena.
– Zuran (@CriticZuran)