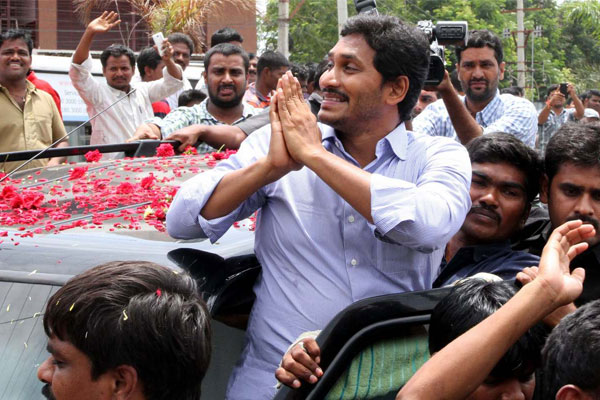 Opposition leader YS Jaganmohan Reddy today shifted his focus on Bandar farmers, who are facing the threat of losing lands for the development of deep water port and industrial corridor near Machilipatnam. YSRC supremo Jaganmohan Reddy has become a tireless fighter these days. The other day he sided with the river front villages of Amaravati development region, who were opposing acquisition of their lands for proposed capital city. yesterday, he was seen preparing the students and youth for a fight for special status. In between he visits houses of farmers who committed suicides and consoles the families of those who were killed in accidents. Today he is with farmers of Machilipatnam asking them to continue their fight against the what he called forcible land acquisition. Jagan is seen everywhere- an usual activity for any opposition leader.
"We will go to courts for justice, We will stage dharnas, if necessary we will organize district bandh," Jagan told the farmers " Acquiring the land against your will is illegal. There are rules to acquire lands. The lands that give two crops are not supposed to be taken away from the farmers. If you are not willing, no force can take your lands," Jagan told the cheering crowds.
Jagan assured them that he would stand by them and fight for their right to not to give the lands for the government for any purpose.