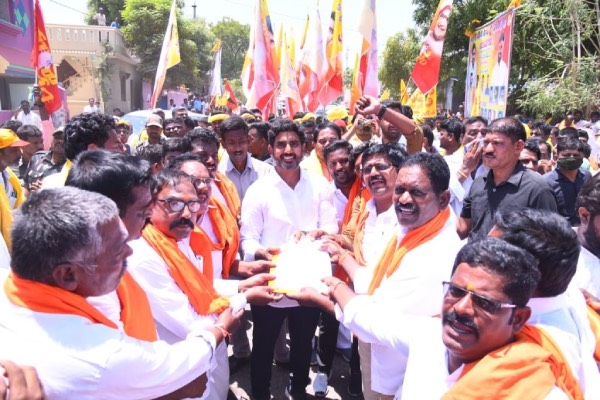 Calling the Chief Minister, Jagan Mohan Reddy, as a traitor of the Backward Classes (BC), TDP general secretary, Nara Lokesh, on Sunday said that Rs 75,760 cr BC Sub-Plan funds have been diverted by Jagan in the past four years.
When the representatives of the Valmiki, Boya Union met Lokesh at Nagalur of Dharmavaram Assembly segment during his ongoing pada yatra, Yuva Galam, the TDP general secretary said that the Jagan Mohan Reddy Government is harassing the BCs, including the Boya community members, by foisting false cases against them. "Such false cases have been registered against at least 26,000 BCs," he said.
Observing that it is the TDP that promoted the Valmikis and Boyas politically, Lokesh said that Kalva Srinivasulu, who belongs to this community, was given the Cabinet berth by the TDP besides accommodating several leaders in local bodies.
Lokesh promised allocation of funds for Valmis and Boys as per the population ratio once the TDP is back into power. "Taking into consideration the Satyapal Malik Committee recommendations, justice will be done for the community," he added.
Earlier, the representatives of the community made an appeal to Lokesh to give priority to them politically and also lift all the false cases registered against the community leaders. They also wanted ST status for the Valmikis and Boyas.
Before beginning his pada yatra on Sunday, Lokesh had an interaction with handloom weavers at CSB campsite where he promised free power upto 200 units for them soon after the TDP forms the government again.
Lokesh also assured them that TIDCO houses will be allotted to them besides common working sheds will be built with all the basic facilities.
When a woman, Ramulamma, expressed her inability to bear the expenditure of the education of her two children as her husband died recently, Lokesh promised to take the responsibility of the education of the two children.
"Also, immediately after the TDP is back in power, Rs 10 lakh each will be paid as ex gratia to the kin of those handloom weavers families who committed suicide," Lokesh said.
Expressing concern that the State Government has not come to the rescue of the 53 families in Dharmavaram of those who had committed suicide, Lokesh asked the local MLA as to why he had not taken the initiative.
He felt the need to treat both power looms and handlooms separately. Within a few days of the TDP forming the government, all the welfare schemes for the handloom workers will be revived, he stated.