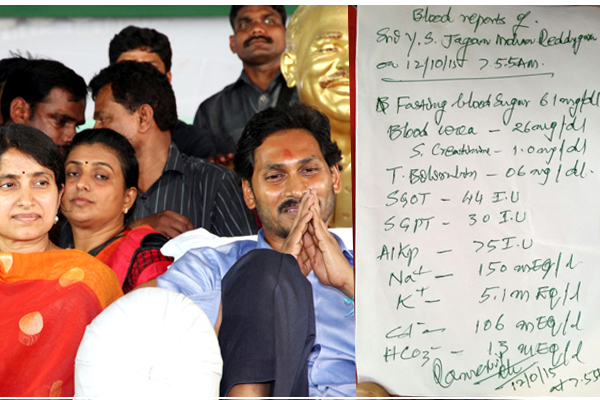 On the sixth day on Monday, the health condition of fasting opposition leader Jaganmohan Reddy has become a matter of serious concern. Jagan has been on an indefinite fast demanding Special Category Status for Andhra Pradesh. His health started deteriorating from yesterday. According to doctors, on Monday there is further deterioration causing alarm . Doctors who are on watch told that the ketones were growing alarmingly. High dose of ketones lead to Ketoacidosis, a dangerous toxic condition. Alarmed at the condition, senior members of the party are expressing opinion that he should call off the fast the adopt other techniques to fight for special status.
Y S Bharathi, Wife of YS Jagan, expressed concern over the worsening health condition of Jagan. Bharathi, who reached Nallapadu for the first time to meet YS Jagan, expressed anguish over the frivolous statements made by minister Prattipati Pullarao and Kamineni Srinivas on Jagan's fast. "It's unfair on the part of the TDP Ministers to speak irresponsibly about Jagan's health," she said.
Bharati said Jagan's Sugar level had come down to 61. " Doctors say sugar level should be maintained at 80." Meanwhile, the impact of Jagan's fast is being felt elsewhere in the state. A research scholar from Sri Venkateswara University, Tirupati, and a woman from Railway Kodur attempted suicide in support of Jagan. Their attempts had been thwarted.
Addressing the media at the deeksha venue in Guntur on Monday, Jagansaid, the state government was misusing the medical fraternity to dilute the agitation for special status for Andhra Pradesh. The glucometers brought by the government doctors are indicating 88 while new glucometers are indicating 77, he pointed out. He questioned the doctors for not releasing the medical test results conducted on him.