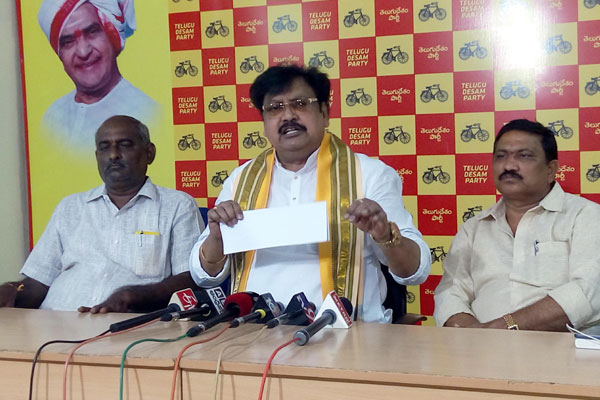 Vijayawada: "Minister for IT Nara Lokesh is heading to fame with his innovative plans and initiatives to develop the State, while Jaganmohan Reddy is heading to jail for another round in the country's biggest corruption cases. There is no comparison between the two," asserted senior TDP leader Varla Ramaiah.
Ramaiah took strong exception to the YSR Congress leaders' criticism of Lokesh and said that the YSR Congress leaders were are scared of the increasing popularity of the IT Minister. He said that Lokesh had successfully roped in 7 IT companies to the State in a short span of less than a month. The seven IT companies that have opened their offices in Vijayawada are set to provide over 1600 new jobs to the people, which speaks volumes of the visionary approach of Lokesh, he said.
On the contrary, the character of Jaganmohan Reddy is exposed to the world with the CBI booking him in 11 cases and sending him to jail for 16 months. Ramaiah said that the CBI cases would soon be proved against Jaganmohan Reddy and would be sent to jail shortly.
He blamed Jaganmohan Reddy and his YSR Congress for making baseless allegations and derogatory remarks against Lokesh. He said Lokesh had already asked Jaganmohan Reddy and the YSR Congress leaders to prove the charges or tender open apology for the baseless remarks.
Ramaiah also dared the YSR Congress leaders to come for an open debate with him on the corrupton charges against Jaganmohan Reddy. He asked the YSR Congress leaders to fix venue, date and time for the open debate and reiterated that he would prove the charges against Jaganmohan Reddy.