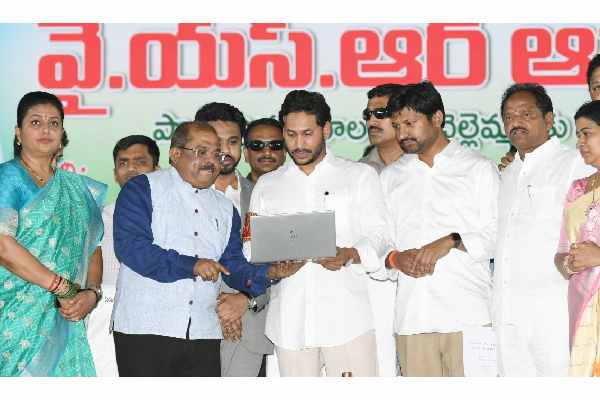 Chief Minister YS Jagan Mohan Reddy released Rs.6,419.89crore benefiting 78.94 lakh women under the third tranche of YSR Aasara. The distribution of Aasara funds to the beneficiaries across the State will continue for 10 days.
Releasing the amount with the click of a button at Denduluru of Eluru district on Saturday, the Chief Minister reiterated that the government would continue to work for the education, social, economic and political empowerment of the women.
He said the government has so far distributed Rs. 19,178 crores to self-help groups of women as part of the promise made to them in Feb 2019 during his Padayatra. The YSR Aasara is being implemented to help the women stand on their own following his assurance to write off their bank loans that stood at Rs. 25,516crores as on March 31, 2019.
The government distributed Rs 12,758.28 crore in the first two tranches of YSR Aasara towards the repayment of the bank loans of women's self-help groups.
Observing that the government has so far spent Rs 2,25,000 crore towards the welfare of women in the last 45 months through various welfare schemes like Amma Vodi, YSR Aasara, Cheyuta, Kapu Nestam, EBC Nestam, Vidya Deevena and Vasathi Deevena, he said that 9,86,616 women have so far been able to launch their own business units like provision stores, poultry farms, food processing units, vegetables shops, cloth stores and dairy farms with the financial assistance provided under the YSR Aasara.
He said that the government's efforts to strive for the economic empowerment of women are yielding expected results as the loan recovery from self-help groups has reached 99.55 per cent now. Women in the State have become role-models for the women's groups in other states and other state Governments are observing the systems being adopted here.
Ours is the only government in the country which enacted an Act to allot 50 per cent of the nominated posts to women in trust boards of temples, Corporations and ZPTCs, he observed, saying the Government is paying utmost priority for the safety of women. Disha App has been downloaded by 1.17 crore women and 26,000 women have so far benefited from it, he said.