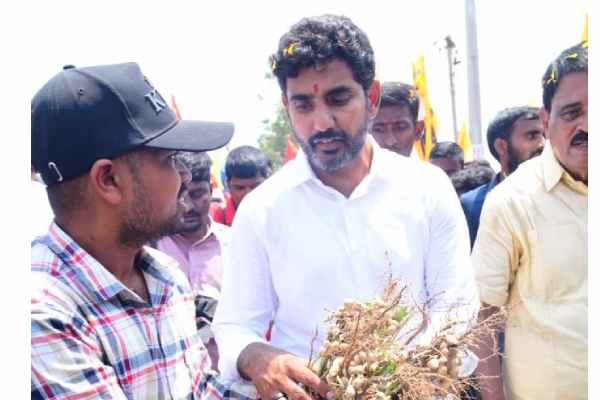 Chief Minister, Jagan Mohan Reddy, has completely dismantled the transport sector that plays a crucial role in the economic development of the State, observed TDP general secretary, Nara Lokesh, on Saturday.
Representatives of the Heavy Vehicles Drivers and Cleaners Association of Telugu States met Lokesh at Ingalaur of Puttaparthi Assembly segment when he is on his pada yatra, Yuva Galam, and narrated their problems to him.
The representatives wanted the trip sheet system to be introduced throughout the country and the details of the goods being transported be included in it. They also wanted provident fund (PF) facilities to be introduced to all the drivers and cleaners.
Responding to the representation made by the drivers and cleaners, Lokesh said that Jagan has increased the fuel prices heavily and imposed various kinds of taxes following which seriously affected the transport sector. This resulted in the owners disposing of their heavy vehicles and turning into divers, he felt.
Lokesh promised to bring down the fuel prices immediately after the TDP formed the government and separate welfare schemes besides insurance facilities on the lines of Chandranna Bheema will be introduced for drivers and cleaners. The TDP national general secretary promised to take all possible measures for promoting the transport sector once the TDP is back into power.
At Gajukuntapalli, farmers met Lokesh and submitted a memorandum on the problems they are facing, including an appeal to revive the zero interest loan facility and input subsidy. They informed Lokesh that all the schemes that were available during the TDP rule are discontinued now.
Responding to their appeal, Lokesh said that the agriculture sector got totally destroyed after Jagan became the Chief Minister and even the Minimum Support Price is not being paid for farm products. He assured the farmers that all the schemes will be revived soon after the TDP comes back to power.
The petty traders complained to Lokesh on heavy power charges and he promised them to take necessary action immediately if the TDP is into ruling.
Girijans from Obula Devaracheruvu also narrated their cup of woes to Lokesh to which he said that the TDP will certainly work for their welfare. He called upon the Girijans to work hard to bring the TDP back to power.