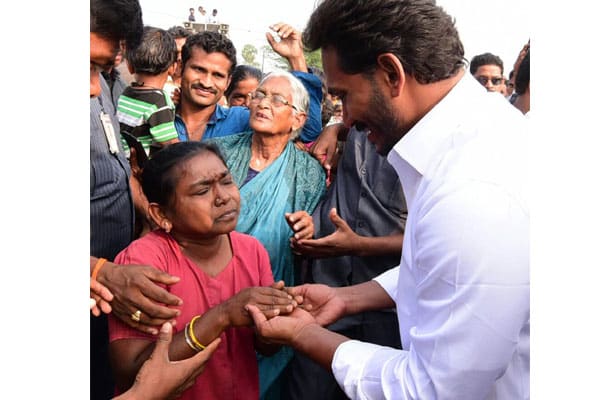 YSRCP Chief YS Jagan's sops continue to amaze. Jagan who is on 'Praja Sankalpa Yatra' is coming up with one of the wildest promises ever heard in the history of politics. We have seen governments requesting the parents from BPL families to send to schools. To further encourage them, many governments came up with the mid-deal meal program, free books, and even free uniform. It looks like YS Jagan has a different route altogether. The YSRCP Supremo has promised a sum of Rs 15K to the parents (probably from BPL families) who send their children to school.
'Isn't it because of the barbaric rule of the TDP Government and Chandrababu, I had to come up with Praja Sankalpa Yatra? Everyone here is homeless. Despite the (water) canals in reach, the farmlands have turned out to be drought-affected areas.
Isn't it true that Chandrababu is deceiving everyone, right from the DWCRA Groups and to other saving schemes? If our Government (YSRCP) comes into power with all your blessings and God's grace, do you all have an idea what we would be doing? I know many of you know, but if there are few people who don't about our welfare schemes, do educate them. Our government will give Rs 15,000 to the families sending their kids to school', said Jagan.
Further increasing his limitless sops list, the YSRCP Supremo said, 'once we come to power, the age limit for pensioners will be reduced to 45. All standing loans you all have (until 2019 elections) in DWCRA groups and other saving schemes, our government will clear them, by handing you the loan amount in cash, in 4 instalments'.
The Andhra Pradesh's state deficit and lack of financial resources make the sops offered by Jagan a mere election-promise. Jagan should own an RBI Printing Press if he ever wants to stick to his promises. If not, the other way is to bring back the black money lying in godowns of various political leader. The readers of Telugu360 know whom we are talking about!