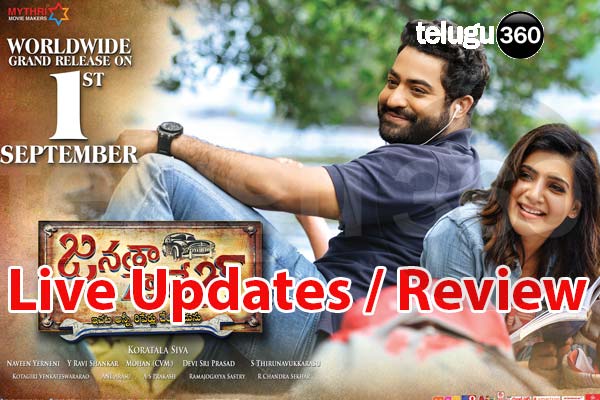 Janatha Garage Review
TELUGU360.com  Rating 3/5
Story:
Janatha Garage story has depth and character in it. It has an underlying message; an intense drama blended it in unique style.
Flashback: Set in 1980s, Satyam Garu ( Mohanlal) runs a mechanic shop named 'Janatha Garage' which also functions as a Praja Darbaar in Hyderabad. Eventually, it becomes thorn in the flesh of crooked politicians and they kill the brother of Satyam. Satyam sends off his brother's little kid to Mumbai to be with his relatives.
Present day: The kid grows up as Anand (Tarak) who is an environmental science student. Anand is very passionate about nature and educates the people around him to protect the Mother Nature. Knowing that Anand has developed rivalry with a local MLA in Mumbai , Anand family sends him to Hyderabad for temporary visit, fearing backlash from the MLA. Meanwhile at Hyderabad, Janatha Garage activities slow down due to attack on Satyam (Mohanlal). Due to an incident, Anand meets Satyam and after realizing Anand's conviction and potentiality Satyam invites him to join Janatha Garage. Anand joins hands with Satyam and rest of the story is how both of them together help the needy people in the society.
Analysis:
Janatha Garage is an author-backed story that has been told with conviction. In Telugu, rarely we see movies in which strong characterizations overpower the stardom and Janatha Garage is one such movie. This movie becomes more intense when such characterizations are backed by brilliant actors such as Mohanlal and NTR. These two blessed artists, with their screen presence and acting prowess, will be appreciated by one and all in this movie. Koratala siva's directorial skill and dialogues competed with each other for major part of the movie. Government office scene with Rajeev Kanakala is a testament to this. Both dialogues and execution are top-notch in this scene. Unni Mukundan, Saikumar did justice to their roles. Nitya Menen and Samantha got very short roles as most of the drama and screen time has been shared between NTR and Mohanlal.
However, the narration is slower throughout and few scenes are hackneyed. First half is just OK as the director tried to set the ground for emotional second half. In second half, from start until the item song … the heroism elevation, Rajiv Kanakala episode, Jayaho Janatha Song followed by Pakka Local item song and all worked out well. Staring with the 'City bomb blasts' episode, the director lost grip on the narration and from there the movie goes down hill.
The last 30 minutes of the movie is a huge let down. With very routine and abrupt climax, movie comes to an end. Audience expecting a gripping emotional movie with ensemble cast will feel disappointed coming out of the theater.
When it comes to NTR Jr., What a transformation !? from a mass hero to all class appealing roles, the way he molded himself is commendable.
Songs:
Highlight Song of the movie is Kajal's 'Pakka Local'. It was choreographed well, both NTR and Kajal danced superbly for this song. 'Pranamam Pranamam' and 'Rock on Bro..' songs do appeal to class audience. Artwork in 'Apple Beauty' song is super classy and this stylish number appeals to youth. Montage song 'Jayaho Janatha.' was placed at right time, elevates the emotion.
Positives:
Intense characterization of Mohanlal as Satyam
Equally brilliant portrayal of Anand character by NTR
Koratala Siva's thoughtful dialogues
Excellent background music by DSP
Cinematography by Thirunavukarasu is top-notch
Superb star casting – Even for insignificant roles, experienced and best in class artists been roped in
All Songs
Message oriented movie, which highlights importance of Environmental friendlyness
Negatives:
Last 25 minutes of the movie is dull
Narration is slow paced at times
Less comedy scenes

Mohanlal's son character is not well established

No proper role for heroines
Verdict:
Janatha Garage first half is decent and second half is better except the climax. One must appreciate the Star heroes NTR , Mohanlal and the director for believing in the subject and sticking to the core point of the movie. For NTR fans, there are ample heroism elevation elements for their delight. Overall, Koratala Siva has missed a blockbuster with a weak climax. You may watch it once with ease.
TELUGU360.com  Rating 3/5
Release Date : September 01, 2016
Written by & Director : Koratala Siva
Production Company: Mythri Movie Makers
Music Director : Devi Sri Prasad
Cinematography : Tirru
Starring : N. T. Rama Rao Jr, Mohanlal, Samantha Ruth Prabhu, Nithya Menen