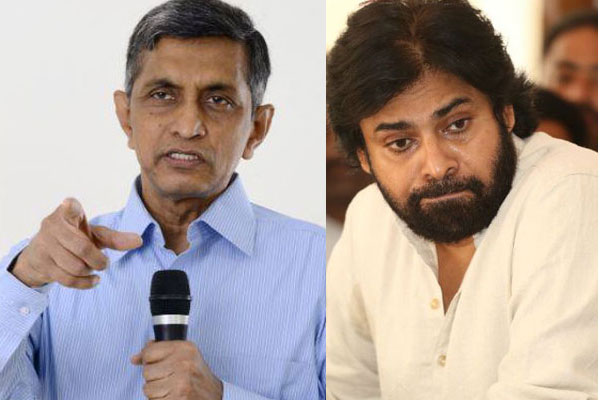 Lok Satta party national leader Jayaprakash Narayan advised movie star and Jana Sena president Pawan Kalyan not to confine himself to capital region and be expansive in his fight for justice. He tweeted this advice to Pawan Kalyan, whose main arena is twitter. "Pawan Kalyan must fight this battle together to protect farmers & ensure development of all AP, not merely CRDA," Jayaprakash Narayan said.
According to Lok Satta founder president, It is absurd to think of one green field city with 1.3 crore population and all industry in only one city. We need all districts to prosper, he added. "Even about tax exemptions for industries, state govt is talking only about CRDA. What about 1000 KM coast, Rayalaseema & north Coast? " he asked.
He was strongly critical about government's attempts at taking the lands of small farmers in the name of capital development and suspects that there is some real estate mafia bazar at work in the whole affair.
"Government cannot deprive small owners of land and give it to cronies. This whole real estate mania must stop. Govt is about all round prosperity. We can understand small bits of land in the middle being acquired. But forcible acquisition of whole villages must be opposed," he said.
Questioning the absurdity of the building huge capital, Jayaprakash Narayan said, " large city with 40,000-50,000 acres is wrong. All we need is 4000 to 5,000 acres. We must not repeat Hyderabad – all in one city."
To the extent land is needed, he said, only voluntary land pooling was the right approach. "After pooling more than 30,000 it is wrong to forcibly acquire another 3,000 acres" he said.