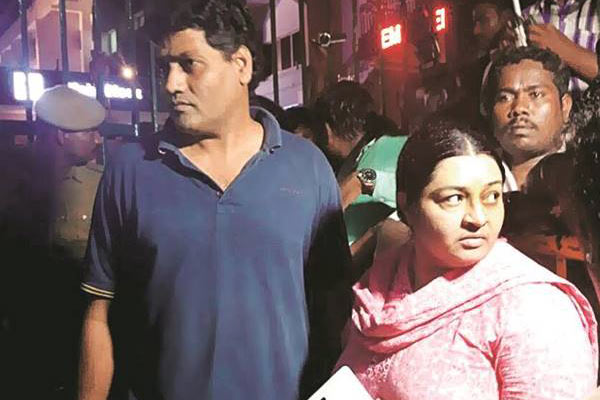 In a dramatic turn to AIADMK politics in Tamil Nadu, former Chief Minister Jayalalithaa's nephew Deepak Jayakumar today revolted against present party's general secretary VK Sasikala, staking claim to her Poes Garden residence and other properties.
Deepak, who was till now sailing with Sasikala, though his sister Deepa had already revolted against her, also denounced the leadership of AIADMK deputy general secretary TTV Dinakaran and Dr S Venkatesh, the nephews of the incarcerated general secretary Sasikala.
In an interview to a news channel, he also came forward to pay the Rs 100 crore fine for his aunt Jayalalithaa. Though he didn't have money, he said that he will sell properties. "I can't say which property I am going to sell. But Poes garden belongs to me and Deepa," he added.
Asserting the claim over the properties of Jayalalithaa, as her legal heir, Deepak indicating that Sasikala and her family members have no right or claim, he said that "only me and Deepa can enjoy the properties of Jayalalithaa. Nobody else can claim credit to it."
Deepak, who was seen last in public performing the final rites for his deceased aunt Jayalalithaa on December 6, 2016, has spoken up for the first time about his and his sister's legal claim to the properties, which were occupied by Sasikala before she went to prison, and is now being used by her family.
But, he said he is not interested carrying on the political legacy of his aunt and clarified that he was not against Sasikala's elevation as general secretary of the party, whom he considered his mother, but only to the posts she had given to her nephews. He suspects that probably those two might force her to handover the party to them, he warned that no cadre will accept this.
However, he seemed to support his sister Deepa's entry into politics. "Even Deepa can claim credit to the post in AIADMK", he said. Asked about rebel AIADMK leader O Panneerselvam, whom his sister is supporting, Deepak said, "I respect OPS. He was a good Chief Minister. I can't say anything more about him. I support his good administration".
Telugu360 is always open for the best and bright journalists. If you are interested in full-time or freelance, email us at
Krishna@telugu360.com