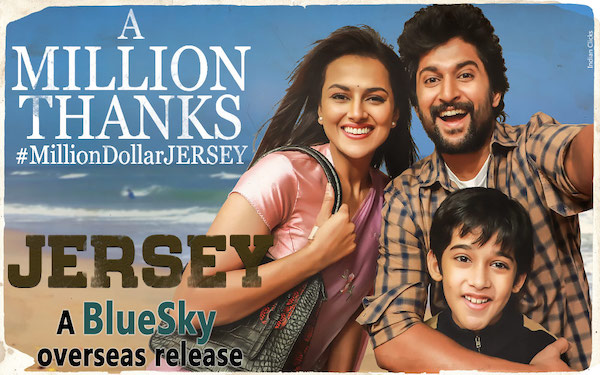 Natural Star Nani and Kannada film fare award winner for U Turn fame Shraddha Srinath's Jersey collected $1.1 M gross in USA and heading towards one of the Nani's best grosser in USA.
BlueSky is happy to announce that we secured about 100 locations in USA for the 2nd week even though has heavy competition from another Hollywood biggie for theaters.
Added new AMC locations in New Jersey AMC New Brunswick and AMC Hamilton. In some locations, we have as many as 10 shows per day and even midnight shows added which might be first time for a Telugu movie!
Jersey is not just a sports-based drama but it's a high-end emotional family drama that makes you involve 100% and make you feel a different emotional experience.
Make sure to watch Jersey with your kids and family values and emotions if you haven't watched yet.
Watch it on bigger screens and stay away from Piracy. All ticket prices are around $12 and less (exceptions may apply).
CLICK HERE!! for Jersey latest USA Schedules.
Press release by: Indian Clicks, LLC