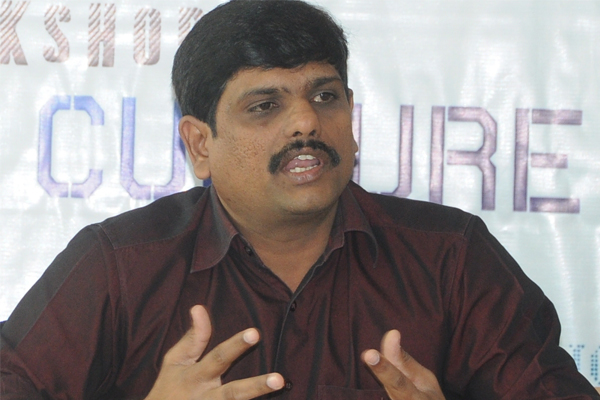 There are certain journalists cum TV presenters who have always made a name for him through the unique choices they made. Standing as epitomes of inspiration, TV9 Ravi Prakash, Rajdeep Sardesai, Barkha Dutt have made some breakthrough journalism, though they have a fair share of controversies too. And then, there are this TRP hankering presenters like Arnab Goswami too.
Telugu people are now ascertaining that even popular journalist Murthy who was formerly with Maaha TV and now joined TV5, is making heads up into the league of Arnab. For the kind of debate programs, Murthy actually hosts, they are leading to the birth of a controversial topic that could be churned out for a couple of weeks to make TRPs.
Murthy is the first to host the Pawan Kalyan fans Vs Mahesh Kathi debates in a news channel. After he kicked up the storm, other prime channels like TV9 and NTV just took the large slice of the cake by blowing it to a new proportion. Then, Sri Reddy Vs Tollywood episode was rolled down by Murthy and his the then channel covered the controversial actress' stripping down protest at Film Chamber. That's it, other big channels saw potential in the news and they just included few activists, small-time actors and a couple of workless directors, to nurture a garden of TRP fruit yielding trees.
Whether Murthy takes the credit, in a good way or a bad way, people are saying that the senior journalist has successfully created another 'debate' opportunity now. Other day he hosted small time actors like Swetha Reddy and Gayatri Gupta where they have breathed fire against Big Boss organisers with casting couch allegations. Also, they accused the show makers of promoting sexism and looking down women cheaply.
In the days to come, just in case if #BigBoss3 catches up like a fever like how it happened with the previous edition, surely there will be lots of debates and these ladies are likely going to be the guests in all news channel debates. If not Murthy, who would get thanked for this? He is almost like feeding every TRP hungry new channel with content ideas.