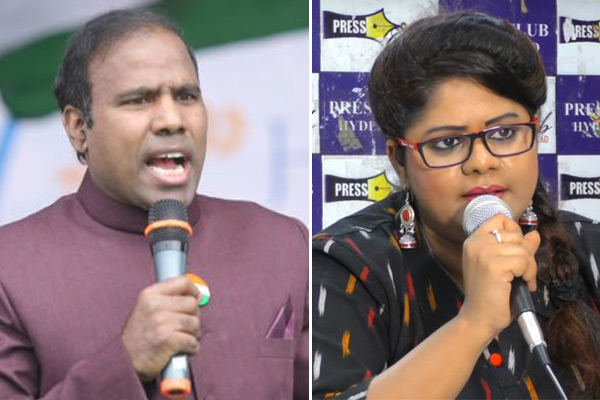 Evangelist turned politician KA Paul got emotional during his press meet today and told, there is conspiracy being hatched to arrest him again. At the same time, lady anchor Swetha Reddy's fight with KA Paul getting bigger and bigger day by day and anchor's severe comments on Paul became viral in social media. Details as below.
Many people may not immediately recognize anchor Swetha Reddy, but she was the one whose name popped up during the case of Maddelacheruvu Suri. After that case, she again hit headlines couple of weeks ago when Paul announced that she will be the MLA candidate of Praja Shanti party from Hindupur constituency, which is currently represented by actor Bala Krishna. But later, for some reasons best known only to Paul and Shweta Reddy, Paul and Shweta parted ways and Paul confirmed that she will not be the candidate of Praja Shanti party. He also mentioned Maddelacheruvu Suri case and spoke about her link with that case.
After knowing Paul's comments against her, Shweta Reddy came to a TV channel and lambasted Paul with the choicest words. She told Paul lost his senses and he is not even a sane person. She added, Paul is always roaming with a woman named Jyothi. He is introducing her as his would be daughter in law to everyone but he is treating her like a secretary. She made extremely sharp comments on Paul for this. She even raised the issue of KA Paul brother's death case. But out of all her critical comments on Paul, one comment that caught the attention of audience is that, Paul doesn't have any money as many people think but he is just duping people as if he has lots of money and trying to do politics to earn some money. People who watched her statement on Paul's financial state are commenting that, she might have expected Paul to have lots of money and Paul to bear all her expenses if she contests from his party, but after knowing that Paul doesn't have that kind of financial power, she might have parted ways with him.
After her yesterday's interview, Paul today convened press meet in Amaravathi and got emotional. He almost cried and told he is being targeted unnecessarily. He tried hard to convince he is not a puppet in the hands of Chandrababu. He told many parties are hatching conspiracy to send him to jail again.
We will have to wait and see how this episode of Shweta Reddy Vs KA Paul turns.