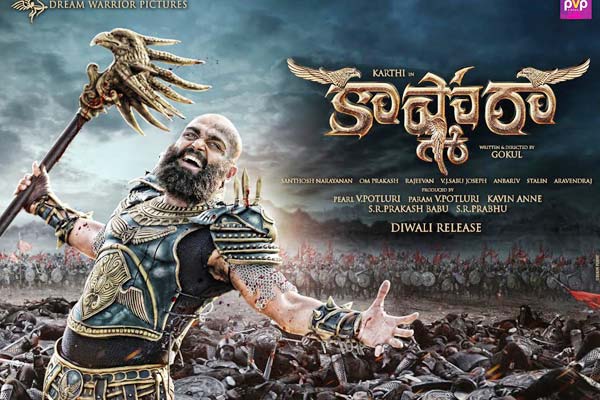 Kaashmora Movie Review, Kashmora Movie Review
Actor Karthi's most awaited dark fantasy film Kaashmora is all set for a big opening at the box office tomorrow morning. The ambitious project is tipped to be a super horror thriller with an interesting backdrop. The film has various elements like action, horror and comedy, and Karthi was seen posing an intriguing look in the posters and the trailers. Directed by Gokul and produced by SR Prabhu, the film has Nayanatara and Sri Divya as the female leads . Karthi will be sporting three different avatars in the film. Made on a grand budget, Kashmora will feature eye popping graphics and considerable amount of VFX accounts. Amidst a lot of expectations, Kaashmora is releasing in a grand way tomorrow. Let's us see if Kashmora is worth the wait till now.
Story:
Kaashmora story happens 700 years ago. Raj Nayak ( Karthi ) is the intrepid warrior of Vikrantaka Kingdom. Raj Nayak's strategies make the kingdom emerge victorious through many wars and success gets into his head. Nayak becomes womanizer, eyeing princess Ratna Mahadevi (Nayanatara) and tries to marry her forcibly. Thus confrontation between Ratna Mahadevi and Raj Nayak breaks down and what actually happened later, needs to be watched on big screen
Set in present day Kaashmora ( Karthi ) is a self-proclaimed exorcist, who earns money by tricking the people that he can exorcise ghosts etc. His father ( Vivek) plays a role of fake Baba and whole family works as volunteers in the baba ashram – cheating superstitious people.
This tricky family ends up in an old fort in which Raj Nayak's spirit lives in waiting someone to release. Rest of the story is how this family led by Kaashmora ( Karthi ) deals with the spirit/ghost of Rajnayak ( Karthi).
Analysis:
Kaashmora is a multi-genre movie, but the main theme is heavy influenced from 2009 super hit film Arundhati. War theme in the flashback reminds us of epic scenes in Bahubali movie.
Movie starts off with introducing voodoo, spirits concept and appears as if a serious one, but director cleverly drives audience into sarcastic, satire mode. He subtly takes on the superstitious people's beliefs and in parallel generates horror comedy – which is a hot genre in Telugu, Tamil now. Best part of the dig at fake babas in this movie is the dialogue diction and body language of the Baba's associates. Comedy actor Vivek and other artistes in his ashram as caretakers have generated some good relief. Sri Divya is a student who does thesis on spirits, tries to follow Kaashmora expecting to film sprits with help of him.
In second half, flashback stands out for its art work and grandeur. Karthi was fantastic with his performance as Nayak. Nayanatara fits the bill in her relatively short role.
Karthi was fantastic with his performance as Nayak. In other two roles, as Kashmora and spirit of Raj Nayak , he did good. Nayanatara fits the bill in her relatively short role.
Santosh Narayan's background score elevates many scenes. Three out of the 4 songs are OK to watch on screen. 'Thakida Thakida' and ' Dhukku Dhukku Saar' are OK, should have been better.
Cinematography by Om Prakash should be appreciated. VFX is good in parts; sometimes appear grand and other times pale. It is understandable because of budget constraints.
Positives:
Multi-genre mix output came out Good.
It's a horror comedy, fantasy and period movie
Humor, sarcastic approach on sprits and fake baba
Second half flashback episodes
Nayanatara Dialogues
Oya Oya Song
Negatives:
Length: Movie runtime is 2 hour 40 minutes , at least 15 minutes – mainly those lengthy comedy scenes can be chopped of easily
Artists: Except main cast, others are unfamiliar Tamil native artistes so Telugu audience may find it much tamil flavor. Whereas for Tamil audience obviously this is not any issue
Few people may not understand few digs the director aimed at, but for those who get it they are good
Verdict:
With average first half, decent second half Kaashmora may do decently in India. In overseas too, if promoted well, this movie might have a decent run. If you are a person who likes a horror movie filled with some humor, some fantasy and grandeur, Kaashmora is for you. You may watch it once.
Telugu360 Rating 2.75/5
Release Date : October 28, 2016
Director : Gokul
Music director: Santhosh Narayanan
Production Company: Dream Warrior Pictures
Cinematography : Om Prakash
Starring : Karthi, Nayantara, Sri Divya