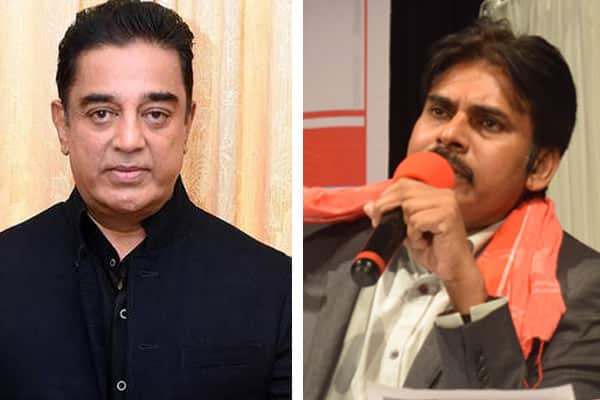 Celebrated actors of Telugu and Tamil Film Industry Pawan Kalyan and Kamal Haasan seem to be the ray of hope for the communist parties which are hardly playing a significant role in politics of India. Communism has become irrelevant, yet they are revered for fighting for the people's cause and being authentic.
Pawan Kalyan's ideology often sounded similar to that of communists. Kamal Haasan went a step ahead and said that "Left leaders are my heroes, I am certainly not saffron", after meeting the veteran communist leader and Chief Minister of Kerala Pinarayi Vijayan on Friday.
Pawan Kalyan's movie Jalsa and Kamal Hassan's flick Satyam Shivam (Anbe Shivam) reflect their political inclinations. In Jalsa, Pawan Kalyan can be seen speaking on feudalism and land ceiling wherein he even played the role of a Naxalite. In Satyam Shiva, Kamal Hassan argues that communism like love is a feeling and it cannot die just because Soviet Union collapsed.
While Kamal Haasan is yet to take a decision on his political stint, Pawan Kalyan reportedly advised his Jana Sena Party to work closely with communist parties.
Left matters very little today. But with Pawan Kalyan and Kamal Haasan sounding close to communism, the future could see some Red. Also, communist parties have been open to alliance as they realised that they cannot survive alone in India.