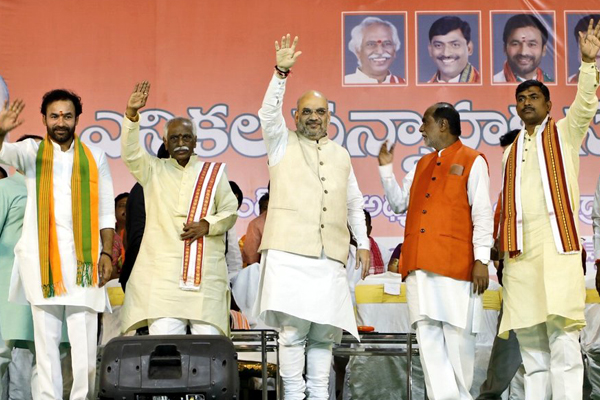 BJP National President Amit Shah addressed his party's 'Samarabheri' (battle cry) public meeting at Karimnagar town on Wednesday when he asserted that KCR opted for early elections in 2018 in order to avoid facing massive Modi wave that will sweep across the country in 2019 general polls.
Kickstarting his party election campaign, Amit Shah said KCR had failed to fulfill all the 150 promises he made to the Telangana people for the past four years which included that of making a dalit chief minister.
"KCR will not make any dalit CM. What he wants is to put his son or daughter in the CM chair," Amit Shad said and added that TRS had failed on many fronts like creation of one lakh jobs, allotment of 3 acres land for each dalit family, construction of double bed-room houses for poor and protection of martyrs' families.
Making an indirect attack on Congress, Amit Shah said Sonia Gandhi had insulted Telangana's son of soil and former prime minister PV Narasimha Rao by not allowing his body to be placed in Congress party office for paying respects.
Shah said that Narasimha Rao's body was even left half burnt as the funeral pyre was not properly set afire which was enough to show how Congress leadership shamed PV's memory.
Amit Shah asked Telangana people to choose whether to promote 'Make in India' campaign under Modi leadership or to join anti-BJP forces only to cause damage to India. He called upon people to defeat forces like Majlis Ittehadul Muslimeen.