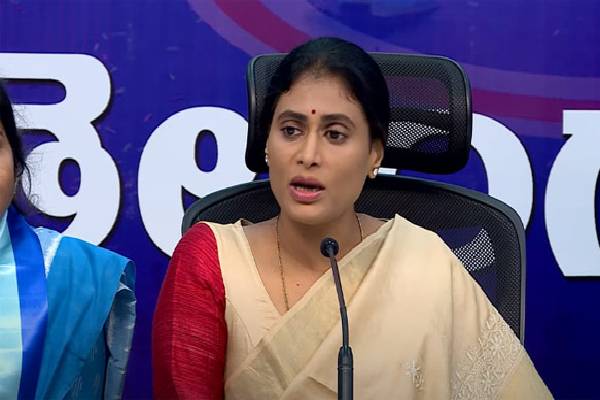 YSR Telangana Party (YSRTP) President Y.S. Sharmila alleged on Thursday that Chief Minister K. Chandrasekhar Rao has crushed the dreams and careers of the unemployed youth in the state.
Sharmila said that the paper leakage episode in the Telangana State Public Service Commission (TSPSC) exam is just a tip of the iceberg.
She alleged that the 'inefficient and autocratic' government failed to create a single job during its second term, while a paltry 65,000 jobs is what it claimed to have generated during its first term.
"The Chief Minister had promised to fill 80,000 vacancies through notifications, and this was on March 9 last year on the floor of the Assembly. A year has passed by but the notification is limited to 26,000 jobs. Even their fate hangs in the balance after the paper leakage case. In short, more than 10 lakh aspirants have been backstabbed and now it is simply impossible to fill the vacancies, with the election notification set to come into effect in just six months from now," said Sharmila.
She called it a blatant case of deception and cruelty when the Biswal Committee had put the number of vacancies to be filled at 1.91 lakh.
"Overall, the Chief Minister has destroyed the hopes and careers of over 50 lakh job aspirants in Telangana. In 2015, he had promised to generate 1 lakh jobs but after four years, the figures stood at just 65,000.
"After the creation of new districts, the workforce requirement was pegged at 3 lakh, but nothing has moved in a positive direction except for the cosmetic treatment where administrative buildings were constructed and inaugurated with huge fanfare.
"One fails to understand why KCR (as the Chief Minister is popularly known) is not as committed towards the unemployed children of many hapless parents, as he is about his child for whom he has moved the entire Cabinet and the official machinery to New Delhi," Sharmila said, referring to the questioning of KCR's daughter Kavitha by the Enforcement Directorate (ED) in connection with the Delhi excise policy case.
She demanded the BRS government to wake up at least now and initiate immediate action by issuing notification for filling 1.91 lakh vacancies as per the Biswal Committee's recommendations.
"Not just that, the recruitment process should also be fast-tracked on priority. We also demand the state government to order a CBI inquiry into the TSPSC paper leak case. No one, including ministers and MLAs, should be spared if found guilty. YSRTP on its part will continue to fight relentlessly on this issue, and also stand by the unemployed youth of Telangana," she added.