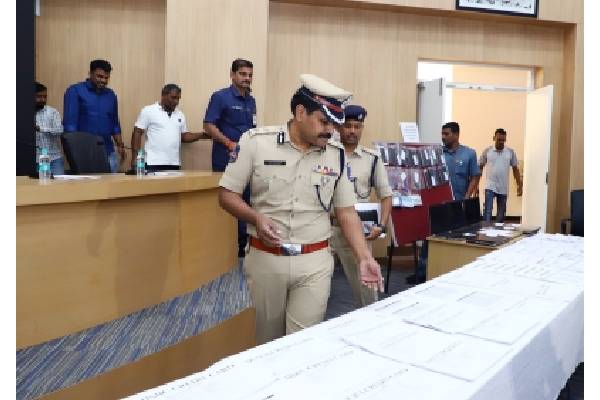 The Cyberabad police on Thursday claimed to have busted a gang that was allegedly involved in stealing and selling confidential personal data of 16.8 crore citizens in the country, and sensitive data of government and important organisations.
The police arrested seven persons operating from Noida and Pune involved in theft, procuring and selling sensitive and confidential data.
The gang was also allegedly selling key data of defence and Army personnel to cyber criminals.
Cyberabad Police Commissioner Stephen Ravindra announced the arrest of the accused individuals at a news conference. He said they would write to the Home Ministry for further inquiry in the data theft case.
The accused were found selling information relating to more than 140 categories of people including defence personnel, bank customers, energy sector consumers, NEET students, government employees, gas agencies, high net worth individuals, demat account holders.
Other categories include Bengaluru women consumer data, data of people who have applied for loans and insurance, credit card and debit card holders (of AXIS, HSBC and other banks), WhatsApp users, Facebook users, employees of IT companies and frequent flyers.
"When any individual calls the toll-free numbers of JustDial and ask for any sector or category related confidential data of individuals, their query is listed and sent to that category of service provider. Then these fraudsters call those clients/ fraudsters and send them samples. If the client agrees to purchase, they make payment and provide the data. This data is further used for committing crime," said the commissioner.
The gang allegedly operated through registered and unregistered companies Data Mart Infotech, Global Data Arts and MS Digital Grow.
Sensitive data of 2.5 lakh defence personnel containing their ranks, email ids, place of posting, etc was found available those accused.
Data of 1.1 customers of six banks, 1.2 crore WhatsApp users, 17 lakh Facebook users, and 35,000 employees of the Delhi government was accessed by the fraudsters.
The accused had also accessed data of 98 lakh people who had applied for credit cards.
"The sensitive data can be used for unauthorised access to important organisations and institutions. The data of defence and government employees can be used for espionage, impersonation and commit serious offences which may jeopardise national security. The data related to PAN cards can be used to commit serious offences. The data is being used to commit a large number of cybercrimes by gaining confidence with victims by disclosing the information," Stephen Ravindra said.
Key accused Kumar Nitish Bhushan had established a call centre in Noida and collected credit card databases from another accused, Muskan Hassan.
Pooja Pal and Susheel Thomar were working as tele-callers at Bhushan's call centre.
Atul Pratap Singh had collected data of credit card holders and sold it on a profit basis through his company "Inspiree Digital".
Muskan, who previously worked as a tele-caller at Atul's office, established her company "MS Digital Grow". She was selling data as a mediator. She had arranged the data from Atul and sold it to Bhushan.
Sandeep Pal had established Global Data Arts and used Justdial services and social media platforms to sell customers' confidential data to fraudsters indulging in cyber offences.
Seventh accused Zia Ur Rehman was providing bulk messaging services for promotions and also shared the database to Atul and Bhushan.