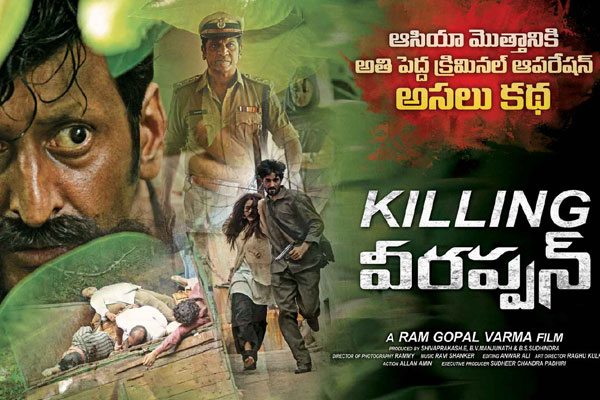 Killing Veerappan Review
Cinema always triumphs when a talented director gets his mojo back with a fiery gusto. In case of Ram Gopal Varma, the mojo comes back after almost a Saturnic period of seven long years with a thrilling biopic on the life and times of Veerappan – India's most-famous smuggler who was on the run for as long as anybody can remember. RGV's last hit must have come with "Sarkar Raj" but in the last seven years, his filmography has seen many low-points including a trashy reprise of "Sholay", a few more voyeuristic odyesseys, many remix versions of his own hits for rekindling film heroes whose careers are going nowhere, and one two-part re-interpretation of violence in India's most feudal districts. But "Killing Veerappan" is different and engrossing and marks an evolutionary phase of RGV. There is no muse, no sleaze, no hyperventilated shots on the few characters and no slowness. Instead, RGV packs quite a lot of punches in a racy thriller that takes us up-close with the character of Veerappan and the saga of some of his legendary encounters with the police out to get him.
The film shows RGV in new light like never before which will bring cheers to his die-hard fans for various reasons. One, the duration of the film: 153 minutes makes it Varma's longest film so far. ("Sarkar" was just 125 minutes). Even "Shiva" was just 144 minutes long. This could be because the life of the infamous bandit had many episodes that demand capture on screen.
Two, the use of flashback technique. Varma, unlike his peers has always been reticent in the use of flashback. But in "Killing Veerappan", he has used a number of flashback scenes to elevate the characterisation of Veerappan to reflect emotions you feel about the character.
Three, RGV has seldom been cinematic and usually directs the film sans cinematic twists but in this film, he didn't let go of a wonderful opportunity of having Kannada Star-son Shivaraj Kumar play the role of a cop who's sole mission is to capture Veerappan dead or alive. Because of the background of the episode when Shivaraj's real father Rajkumar got kidnapped by the real Veerappan many years later, RGV compromises on some of his typical style by embellishing the narrative with lot of scenes that show cinematic justice to Rajkumar. This compromise gives a lot of free hand to Shivaraj Kumar to deliver knockout performance that is pure joy to watch. This dimension of allowing a star to unleash cinematic raw appeal is unprecedented in a RGV film.
Four, the film doesn't have the conventional style of RGV with file shots of awkward close ups and dizzy camera angles. Infact, it has very little of Varma's obsession with distractions of the mind. Instead, the film's central point is the story of how one courageous police officer embarks on a life-threatening journey of arresting and/or killing Veerappan and how he succeeds in that.
Five, with Ravi Shankar's music, RGV shows a different dimension of prefacing the movie's emotions with loud and somewhat cacophonous music. This may not be new in recent Varma's films where BGM score has been spinning out of control and the music director wants to concoct a million emotions out of a particular scene. Quite typical of Ramu who doesn't give relief even in music because most of the film is song-less except one chorus, montage song. The only thing you wished is if the music could have been less louder; it could have felt less self-important and more impactful.
Lastly, the scale and grandeur of Veerappan makes Ramu spread his canvass bigger like never before. Wherever he shot the primary scenes of action sequences (in Bengaluru, Vizag etc.), you only see realistic picture-frames of a morbid elephant-hunter on rampage in India's densest forestry with amazing flourish. In narrating the story of the end of the sandalwood smuggler, RGV shows the flavor of the forest and its labrynthine complexities – which Veerappan straddled with ease but remained at-large for decades while the world outside the forest struggled to cope with him. The structure of the plot easily lends itself to a commercial plot that has a powerful prologue, a good interval and a stunning climax.
Performances-wise, the starcast is impressive but the ones who win laurels are Shivaraj Kumar and Sandeep Bharadwaj as the protagonist and the antagonist in the film. While Sandeep looks every part Veerappan with the designer moustache and intensity that never waned, Shivaraj Kumar is a surprise packet to audiences who are not exposed to Kannada cinema. Cracking witticisms, intimidating strangers, plotting the next sinister move against Veerappan, and surging on the screen with a new cameo costume every time – Shivaraj Kumar proves he is a chip off the old block and is also an exciting actor to watch on silver screen. If anybody else has done his role, we would have never known the panorama of emotions that he portrayed as a super cop. This makes Shivaraj a versatile pack to watch; his voice is dubbed in Telugu by Shekhar who does an outstanding job in imparting freshness to the personality of Shivaraj Kumar. Parul Yadav and Yagna Shetty convey their roles matter-of-factly without exaggeration. Surprise, Varma has never been a votary of comedy and this film shows no need for comedy either.
What can lower the rating in this adventurous film? Mostly, the treatment of Veerappan's characterisation. In projecting the intensity of the character, Ramu lost out in decoding how and why Veerappan became such a dreaded smuggler – what were the episodes which drove him, what he did with all the money looted, and how his intelligence permeated the civil society and business polity.There was no mention of how his empire flourished with the loot of the tuskers and how he lived life beyond the sudden exchanges of fire. Any other director would have delved deep into the psyche of such an enigmatic plunderer but Ramu being apathetic to the human aspects, we don't have an idea except his itch to marry on impulse. In 153 minutes, had Ramu deflected the attention away from Shivaraj Kumar, we would have got a better grasp of the man's psyche. However, since the title is "Killing Veerappan", it is all about atrocities of Veerappan and the revenge of an officer in avenging the misdeeds of Veerappan. From title justification point of view, "Killing Veerappan" scores high while creating a dose of sympathy for the man in the bargain. Some of the stunts and the violence acts will freak you out and kids should definitely stay away from the film. For a career resurrection, this is a leap for RGV because he knows how to tell a good story with lot of elaborateness and tautness. This movie will draw lot of attention in the coming days because of the seriousness infused by Ramu and the reasons outlined above – which suggest Ramu is finally ready to step out of his comfort zone and experiment genres outside the four to five stories he told all his life.
T360 Rating: 3/5