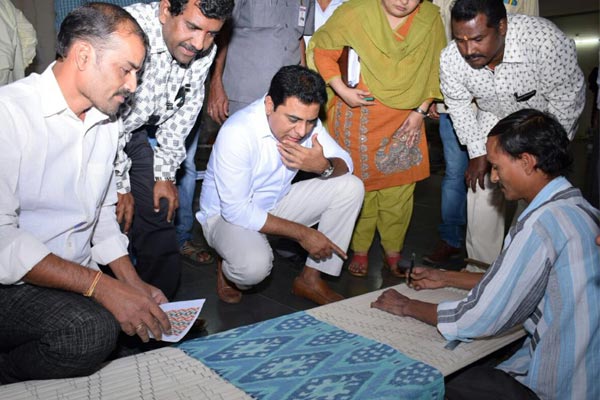 While Textile Minister KT Rama Rao making calculated moves to woo weavers by promising that the State government will soon come up with a new Textile Policy, the CPM coming heavily and deplored that the state government had failed to protect the weavers' community who faced a slew of problems over the years.
KTR also announced that the state government has plans to open 12 new clusters to encourage handloom industry and support weavers as well their families through health insurance and pension. Visiting textile parks at Pochampally and Malkapur, where he purchased cloths for his family members and made cashless transactions using swipe machine, he promised that the government would revive the handloom industry.
However, the CPM state secretary Tammineni Veerabhadram, has demanded that the government should procure the cloth from weavers and use it as uniforms for employees of various departments. He was on his `Mahajana Padayatra', met members of weavers' community in Warni and enquired about the issues they were facing.
Minister Ramarao assured that all weavers were empowered through enhanced marketing opportunities, better incomes and speedy implementation of the policy. For speedy revival of the handloom industry and for giving boost to the workers, he said that the government would allot special funds in the budget.
He recalled that the handloom industry was the biggest after agriculture, providing large-scale employment to people. He expressed happiness as online sales of handloom clothes had already gained ground. It would be expanded further by talking to all e-commerce websites.
The Minister stated that he would ask leaders and officials to wear handloom clothes at least one day in a week. Steps would be taken to see that the famous handloom clothes made in Pochampally and Gadwal were displayed in the Golconda Handicrafts Center in Delhi, he added.
The CPM leader slammed the TRS government saying that it did not keep its promise of helping the weavers many of who committed suicides due to higher production costs and heavy losses. The KCR government which on numerous occasions promised to solve weavers' issues has now left them in lurch, the CPM leader said.