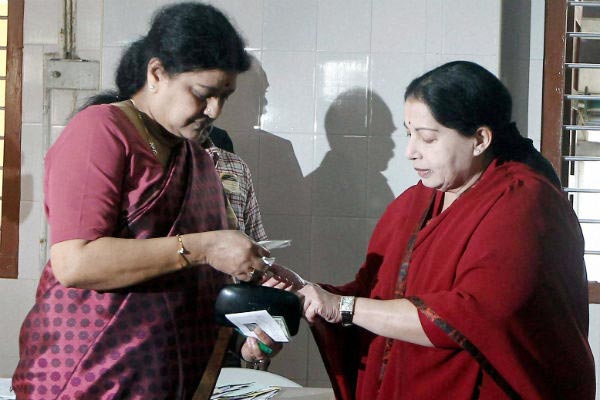 At a time Jayalalithaa's estranged confidante Sasikala has been making moves to get hold over the party and government in a determined way, the Tehelka report suddenly surfacing the political circles, which had earlier in 2012 says she conspired to give slow poison to the AIADMK supremo, because of which she and her family members were packed off from the ruling establishment.
The report said, Jayalalithaa was allegedly given sedatives and chemical substances that had small quantities of poison by a nurse appointed by Sasikala. The report doesn't quote sources but says that Sasikala was guilty of planning a palace coup and of the Mannargudi mafia hoping to replace Amma (Jayalalithaa) with Chinnamma (Sasikala) as chief minister.
The report says, Jayalalithaa travelling to Bangalore in connection with the disproportionate assets case gave the Mannargudi mafia idea. "An unfavourable judgment or remark by the court, it was felt, would have put pressure on Jayalalthiaa to resign and hand over the government to somebody she could trust,."
The Tehelka reporter Jeemon Jacob then went on reveal that it was Gujarat chief minister Narendra Modi who forewarned Jayalalithaa about her inner circle's machinations. "Specifically, an NRI businessman who came to tamil Nadu with a project had to shift to Gujarat because the Mannargudi mafia had sought a 15 percent cut", says the report.
Modi, the report said, reportedly warned Jayalalithaa to keep a watch on her inner ring. He reportedly told her that big investors were avoiding Tamil Nadu because of the extortionate demands from Sasikala and her family members.
Shortly after her meeting with Modi, there came the episode of the Chennai monorail project, says the report.
The Tehelka report says, following another tip-off Jayalalithaa sought independent medical opinion on the medicines she was being given. Her tests revealed that she was being given sedatives and chemical substances that had small quantities of poison. Her nurse at home was appointed by Sasikala who served the chief minister with fruits and medicines.