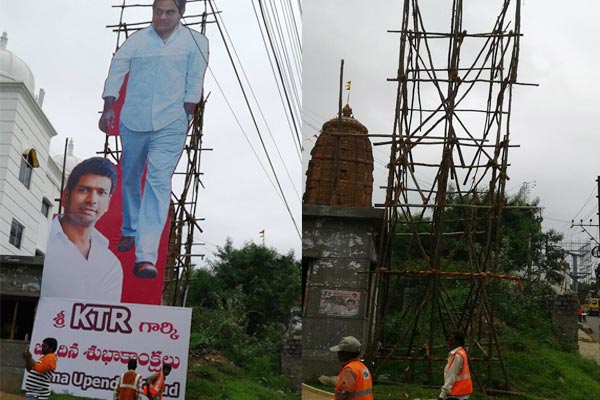 Is this austerity or modesty or an oxymoronic approach to drawing public attention? It seems like a deafening silence or a silent celebration that echoes in the minds of people for a very long time to come.
Whatever it is, the denouement of the well-choreographed subdued celebration within heart of hearts turned out to be a super hit.
July 24, 2016 is the 40th birthday of Kalvakuntla Taraka Rama Rao aka KTR, son of Chief Minister K Chandrasekhar Rao.
KTR doesn't want to be stereoptypical in whatever does. He does things in style. Even if he abstains from doing certain things or even when allowing some celebrations, he ensures they have his mark. This naturally denotes the adage of "practice before you preach".
Is KTR setting a new trend? Does he want to eschew publicity? Will VIP birthdays become a passé henceforth? Doesn't a very popular politico need a birthday celebration to be in the public eye and draw the attention of his admirers and also critics? It appears so much that KTR is trying to lead the change by example. He told me yesterday: "I don't either enjoy or approve of any individual aggrandizement."
Contrary to the popular perception that politicians of all hues yearn for the sycophantic gristmills whirring around them and followers singing paeans, this 40-year-young esquire man and IT minister of Telangana wants to keep opportunistic eulogies at bay.
Attention-mongers put up hoardings to draw the eye of KTR and the powers-that-be in Telangana administration to publicly greet him through posters, banners and other ATL (above the line) activities.
But 'sycophant proposes and the subject disposes', asserting that he is no "God". Not even Rajinikanth. KTR took this opportunity to snub the civic authorities to ensure that illegal hoardings and banners are removed from the thoroughfares of the city. He knows how to beautify the city from the scratch. After all, true to the popular dictum, charity, they say, must begin at home. In this case, KTR frowned at hoardings greeting him on the eve of his birthday. Minutes later, the hoardings and even their traces were razed and erased.
Thousands of people want to be in or enter the good books of KTR for very obvious reasons. The minister isn't oblivious of this fact. Some politicos keep it a low key affair. And, this man who comes across as a very unassuming leader who grew from the ranks of the TRS, instead of descending from the sky like a paratrooper in his capacity of son of the Master Crusader and now Chief Minister K Chandrasekhar Rao, wants his feet firmly rooted to the ground.
Rejecting all appointment requests for greeting him from his closest of pals, he humbled all. He cleverly says: "sir, we can meet next week."
A day before his 40th birthday, Kalvakuntla Taraka Rama Rao went in search of his cradle of truth and simplicity in which he swung in his infancy and formative years. It was yet another day. It will be no different on his birthday and his schedule remain unchanged and enthusiasm unfazed.
Man, there you go, here is the scion of the "Royal family" who wants to be son of the soil. No less. Eh!!!
But, the bucket list of aspirations from people, especially the denizens of the twin cities of Hyderabad and Secunderabad, is long and the people pinned all their hopes on KTR. Now, the onus of realizing their dreams lies on his shoulders.
Wish you a very happy birthday, KTR.