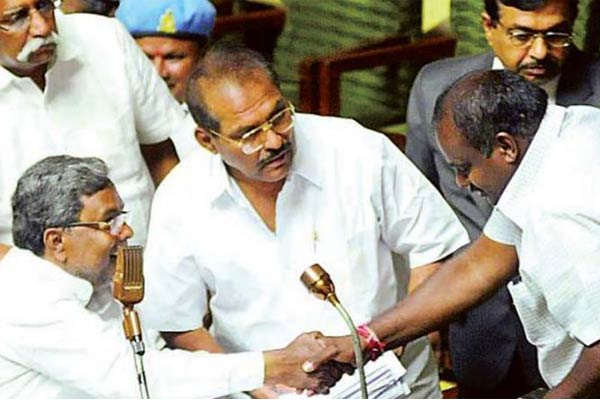 Former Karnataka Chief Ministers H.D. Kumaraswamy and Siddaramaiah and other leaders of the Congress and the JD-S held a crucial meeting here on Friday evening to discuss the strategy to be adopted in the state Assembly on Saturday when the BJP government seeks a trust vote.
Janta Dal-Secular (JD-S) leader Kumaraswamy, Congress' Siddaramaiah and top leaders of the two parties attended the meeting at the Taj Krishna hotel.
The two former Chief Ministers flew in to Hyderabad hours after the MLAs were shifted here by their respective parties to prevent them from being poached by the Bharatiya Janata Party (BJP) ahead of the crucial floor test in the new Assembly.
Siddaramaiah drove to the Taj Krishna and began consultations with the party leaders in the wake of the Supreme Court judgment directing Chief Minister B.S. Yeddyurappa to take the floor test at 4 p.m. on Saturday.
According to Congress sources, the senior leader gave directions to the MLAs to ensure coordination to defeat the trust vote. The meeting was attended by all 76 MLAs of the party.
Kumaraswamy, who has already staked claim to form the government with the support of the Congress, also reached Hyderabad and drove to Novotel, where his party MLAs were camping since their arrival in the city early on Friday.
The JD-S leader held a meeting with the party leaders and discussed the strategy to be adopted on Saturday. He later drove to Taj Krishna for a meeting with Congress leaders and MLAs.
Three bus loads of MLAs arrived here after their night-long road journey from Bengaluru. This happened after the plans of the two parties to move the legislators to Kochi failed.
All 76 Congress MLAs checked in at Taj Krishna in Banjara Hills. The bus carrying 36 JD-S MLAs first stopped at Park Hyatt in the same area but was later taken to Novotel Hotel.
Police have made tight security arrangements at the two hotels. Media persons have been barred from entering while security personnel were frisking visitors before allowing them in.
Congress leader Madhu Goud Yashki, who accompanied the MLAs from Bengaluru, told reporters that the BJP was shamelessly trying to poach the MLAs. He said the BJP would fail as the Congress-JD-S enjoyed a majority.
Telangana Congress chief Uttam Kumar Reddy, senior leader Mohammed Ali Shabbir and others met the party MLAs at Taj Krishna.
Within hours of the MLAs checking in at the hotels came the Supreme Court judgment directing the BJP government in Karnataka to prove its majority on the floor of the Assembly on Saturday.
Meanwhile, the leaders of the two parties were busy making arrangements to take their MLAs back to Bengaluru. Sources said the legislators may fly to the Karnataka capital in a chartered plane.