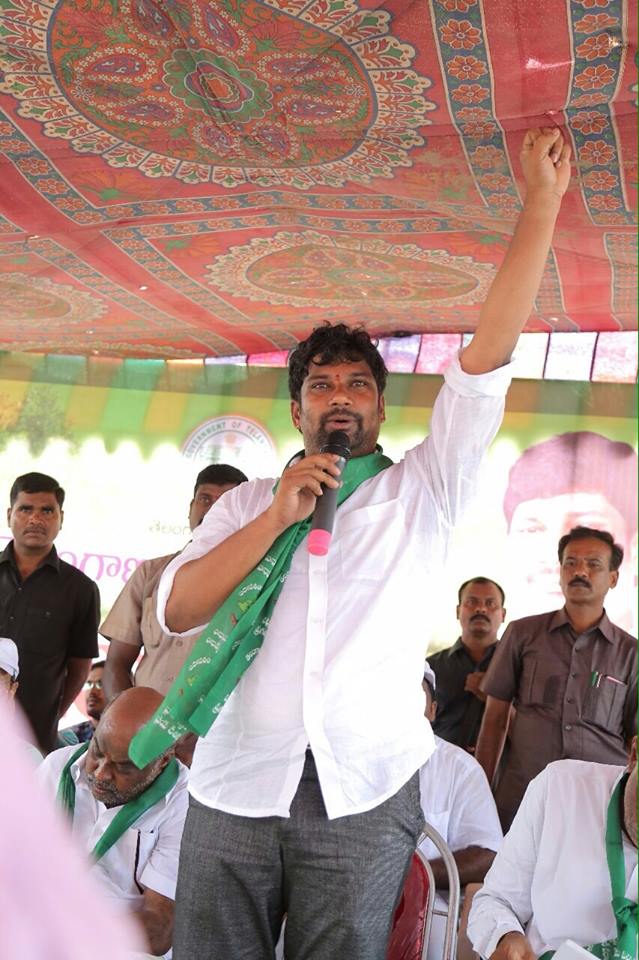 Peddapalli (SC) Lok Sabha member Balka Suman is the victim of caste discrimination in the 'Republic of Karimanagar'.
The young and first-term dalit MP tasted the real bitterness of Bangaru Telangana on Friday. He experienced the ugliness of political culture . Whether it was united in Andhra Pradesh or a separate Telangana, achieved after spilling tons blood and life, the political culture is same, hegemonic. Not in so many words, the student leader-turned dalit MP lamented before the officials and his colleague MP Vinod Kumar Rao that, "had I been a Sarma, Rao or Reddy, would i have received this indifference of not following the protocol due to an MP in the district." He announced to the shell shocked officials that he would bring this to the notice Lok Sabha Speaker.
Though he is an MP from Karimnagar district, he is not being given due importance. He doesn't get invites to official functions, which is mandatory for every MP. His name rarely finds place in the plaques. A research scholar from Osmania University, Suman raised this issue in the meeting of vigilance monitoring committee held in Collectorate. The was presided over by Vinod Kumar, MP from Karimnagar.
Pained at the disdain and raising accusing finger at the collector, he said " I would have received a different treatment, if my name had been Suman Sarma (Brahmin), Suman Rao (Velama) or Suman Reddy (Reddy)," he said adding that he was only a Suman , a dalit MP.
The meeting was to start at 2 pm. But, he was not informed about the timing advanced to 11 am. He shouted at the official at the height of his voice and asked that how did you advance the meeting without informing the MP. " Didn't you know that I was an MP and Peddapalli is part of Karimnagar district," he asked. He also brought to the light that his name was not being added to the plaques as per the protocol. He said officials had never bothered to honor protocol in his case, just because he was a dalit.
The officials seems to have forgotten the MP, because they might have thought that it was enough to consult IT minister Taraka Ramarao, who is an MLA from the district and son of chief minister KCR, and Vindo, MP, Karimnagar.