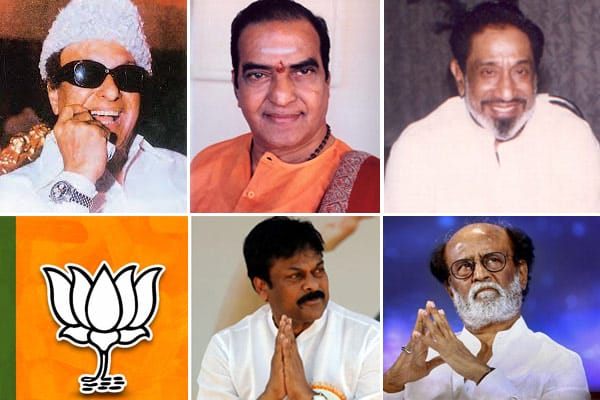 Tamil politics in a nutshell – part 1
Rumors on Rajni's political entry is not a new thing for media. It started around 1996 after super hit movie 'Basha'. Every now and then, there will be some discussion in media about Rajni's political entry and this topic has become too cliche to generate any further interest, until couple of years back. But suddenly after Jayalalitha's death, speculations have started with full vigor again. But Rajni has put a big full stop to all the rumors on the last day of 2017. Now the debate shifted to whether he will pull off another MGR or NTR? Or will he become another Vijaykanth or Chiranjeevi? Will he become "Thalapathy" in politics too or he will join the club of another actor who gave an attempt in politics but in vein? Let's analyze…
Negative side: Why it is difficult to repeat the feat of MGR or NTR?
No ideology: Unlike Annadurai and Karunanidhi, Rajni was never part of any social / political movement. Both these writers (Anna and Karunanidhi) wrote several scripts (for drama and movies) to propagate their ideology of caste-less and class-less society and MGR acted in those scripts and because of those scripts Anna, Karuna and MGR all built great mass base. Rajni's mass base is because of commercial elements but not because of sociological scripts. No one knows what his take on various social issues. All that people know about him is – he is a spiritual person.
No prior work: MGR and Jayalalitha toiled for the party and later became the Chief ministers.But Rajni only got the ambition. He might have done some social work but it is not on par with the ambitions he has.
Diplomatic statements: When it comes to giving political opinions, Rajini has almost always preferred to have a diplomatic stand. This does not help him get projected as true leader.
Nativity: Whenever news about Rajni's political entry came out one section of people start questioning his nativity. He is originally from Maharashtra and worked in Karnataka. So whenever inter-state issues like Kaveri river water sharing pop up, Rajni always was in soup. Once he raised voice against Karnataka government regarding Cauvery water issue. Then he had got trouble releasing his films in Karnataka and then he taken aback his foot.
People able to differentiate movie adulation and politics: Gone are the days when people simply voted for their matinee idols. Nowadays, people are very matured and say "I love my favorite star in films, but I won't vote for him". This trend is in sync with what most analysts and intellectuals feel about film stars entering politics. Former Supreme Court Judge Justice Markandeya Katju wrote in his blog – "Has he any solutions to the massive problems of poverty, unemployment, undernourishment, lack of healthcare, farmers distress, etc? I think he has none. Then why do people want him in politics?"
BJP angle: We need to remember, more than 60% vote base in Tamil Nadu still have anti-Hindi sentiments and with strong Dravidian ideology. Remaining 40% vote base are young/mid age people,neutral voters,other language population settled in TN for long. But there are news that BJP is supporting him backdoor. If it is true, it will turn to be a disaster for both BJP and Rajni.
Positive side: Why he can not be ignored ?
Political vacuum: TN is witnessing the weakest government in last couple of decades. Definitely there is a political vacuum and everyone knows, if not now – Rajni can never get a chance like this. Probably 1996 was the best time, but this is the next better (probably, final) opportunity for him. But how he cashes on this is up to him.
Strong fan base: He has very strong fan base that any super star envies. If he enters politics, At minimum, he can he can easily create a vote bank of 15-20% in Tamilnadu. It can be recalled here, Vijaykanth got around 5% vote bank and Chiranjeevi got around 16.7% vote bank when they floated parties and contested. So, this analysis of 15 to 20% is definitely a reasonable one. In the era where 1% vote bank is tilting the political fortunes, 15-20% is definitely a big number.
Ability to tilt the balance: Hysteria was witnessed in 1996, when Rajni openly defied Jayalalithaa, asking people not to vote for her. The following election saw Amma losing the assembly elections and the DMK-TMC combine registering a landslide victory. With just a statement he was able to tilt the power. If he can properly play the cards, he can once again prove his power and repeat the magic.
What lessons he can take home from other actors who failed in politics?
Why Sivaji Ganesan failed in politics? All main leaders in Tamil Nadu – like Periyar, Annadurai, Karunanidhi and MGR – everyone had a political ideology – Be it a self respect movement (Periyar) or anti-Hindi movement (Annadurai, Karunanidhi) , Annaism(MGR). But Sivaji Ganesan, just like Rajini, did not embody any political Ideology. That proved him a disaster. Other than being a fan of his acting, Sivaji Ganesan never able to convince people why they should vote him. This should be a lesson for Rajinikanth. While announcing political entry, Rajni did talk about corruption but that is too stale an ideology for Rajni to pick up.
Why Chiranjeevi failed in politics? Chiru was too soft a person for politics. On the day of his political announcement (not that Tirupati meeting, but the press meet he convened to announce political entry) he told, both Chandra Babu and YSR are good leaders and he doesn't want to criticize them. Such diplomatic statements do not work in politics. If Rajinikanth turns to be a bold person and portray his reel life in his real life surely he will be the next CM of Tamil Nadu but his soft attitude and fear towards politicians makes him just one more actor wanting to try luck in politics. In a recent interview, Dr Vinay Kumar (contested and lost from PRP in 2009 and one of the key persons in PRP) told that he actually urged Chiranjeevi to go hard on YSR and CBN and make some strong comments against them but Chiranjeevi refused to do so. Obviously, it proved to be a life-time mistake for Chiranjeevi. This might be a major takeaway for Rajni.
But the official reason Chiranjeevi told for this failure was 'lack of electioneering techniques'. He quoted there were more than 30 constituencies in which PRP lost with less than 3000 votes. If there were some good "electioneering practices" adopted, the future of PRP might be different. Rajni will also have the same issue to tackle as he is a novice and has to compete with "electioneering" stalwarts DMK and AIADMK.
What lies ahead
Rajinikanth fits the bill at present due to lack of any other alternative. From his point of view, this might be the best time. But politics is full of unpredictability. There are 'n' number of permutations and combinations that have the chances of changing the game completely.
First, if the current government collapses before its full term, it will be a boon to Rajni. However if it manages to complete remaining tenure till 2022 somehow, Rajni will be 72 years of age by that time and believe – it is very tough for him to even contest elections.
Second. if Karunanidhi, nonagenarian politician, is alive by the time of elections, probably it will be projected as his last elections and anything can happen in Tamil politics – full of drama. (This is just for analysis) In case he dies, just before elections – that will have another kind of impact on elections. If the rift between Stallin and Azhagiri widens, there will be different kind of impact.
Third, what stand he takes on national issues also will have lot of impact. If he is seen as some one colluding with central government (NDA) – it may prove disaster.
So, it will be very difficult to predict his fortunes at the moment, but we will get an idea by observing how he reacts on various issue from today. After all, he is a politician now and he has to react on each and every issue now on and that will give people a fair idea about what he is up to !!!
– Zuran