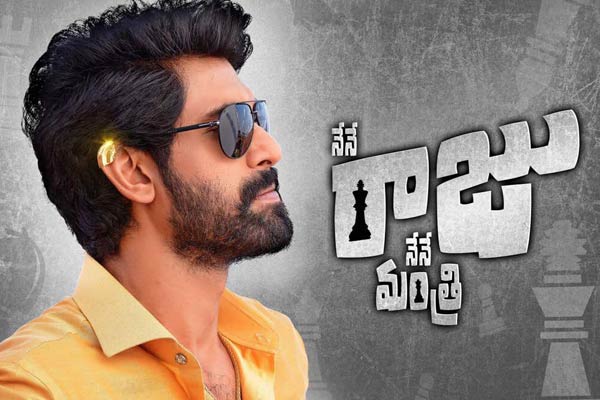 After playing a king in the "Baahubali" franchise and a naval officer in "Ghazi", actor Rana Daggubati says he keeps the excitement meter ticking by finding something new and different to do in his films.
The excitement will continue for Rana as he awaits the release of his forthcoming Telugu drama "Nene Raju Nene Mantri", in which he plays a politician.
"I have always urged to do something different. I played a politician in my first film 'Leader', and it wasn't a regular debut. I like to find something exciting in everything I do. In a film like 'Baahubali', each day was exciting. In 'Ghazi', a submarine war film, the excitement was in making something ambitious on a tight budget," Rana told IANS here.
What was exciting about Teja-directed "Nene Raju Nenu Mantri", slated for release on August 11, in Tamil as well as Malayalam?
"Teja approached me with the idea at the end of 'Ghazi' and at the beginning of 'Baahubali 2'. We spent eight months developing the character (Jogendra) and wrote different versions of the story. This is a commercial story of a politician, but told in a way an art film is narrated," he said.
Explaining the story in a nutshell, Rana said this is the story of a moneylender who is pushed to the brink by those in power.
"I'm a huge fan of 'The Wolf of Wall Street', and I consider it today's classic. As a tale, it could be very dark but the flamboyance with which (Leonardo) DiCaprio's character takes you through the madness in his life is amazing. We tried to do that in a rural set up but against the backdrop of Indian politics," he said.
At the heart of "Nene Raju Nene Mantri", is a very heartwarming love story of a husband and wife, says Rana.
Asked how different Jogendra is from Arjun Prasad, the politician character from "Leader", he said: "Arjun was an honest guy and he wanted to clean the system. Here, Jogendra is angry with a bunch of people and he wants to show them what power can really do to a simple man like him. The story is about the rise, fall and redemption of Jogendra."
Many things about the film are a tribute to actor and former Tamil Nadu Chief Minister M.G Ramachandran (MGR).
"Director Teja is a huge fan of MGR, and he grew up in Chennai idolizing him. What really inspired him was the greatness of MGR, and his rise from a film star to a leader," he said, clarifying the film is not based on the life of MGR.
"The film will feel like real events but it will all be fictional. When we did 'Ghazi', we were aware that it was a true event but nobody really knew what had actually happened because everything was classified. But we ensured everything that happened in the film should feel real," Rana said.
The MGR connection extends to the film's Tamil title "Naan Aanaiyitaal", a line borrowed from the yesteryear actor's hit film "Enga Veetu Pillai".
According to Rana, the film has not been dubbed in Tamil.
"We actually re-shot some portion of the film in Tamil. We even roped in some popular actors for the Tamil version, to make it look and sound authentic," he said.
The film also stars Kajal Aggarwal, Catherine Tresa, Ashutosh Rana and Navdeep.