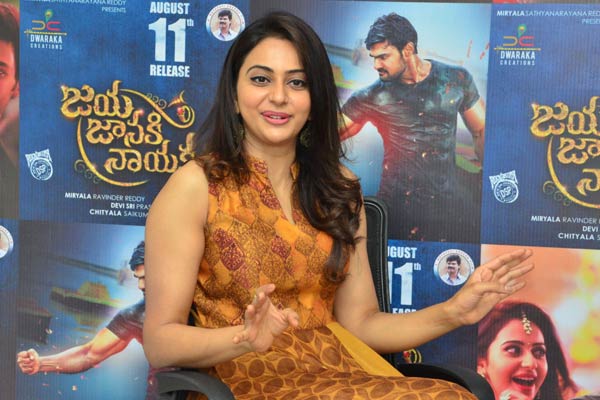 Here are the excerpts from our chit-chat with the very busy Rakul Preet Singh, who will soon be seen in August 11 release, 'Jaya Janaki Nayaka'.
* Any special reason for accepting a film opposite an upcoming hero while being busy with films of star heroes?
– This is not a new development, I have been doing this from the very beginning of my career. My first priority is to story and my character in it. Moreover, this is Boyapati Srinu's film. I have acted in his Sarrainodu, and I have firm belief that he chooses only good stories.
* Have you watched Bellamkoda Sreenivas' earlier movies?
– No, but I have observed maturity in him from his starting days to now. The credit must be given to Boyapati. He can extract the best form all his actors, you won't find a bad actor in his film. Since he enacts each and every scene, it becomes very easy for actors to replicate the same.
* Have you given any advice to Bellamkonda, who is junior to you in industry?
– Who am I to give advice. He has already done two films, he has the requisite experience. Moreover, Boyapati is already there to take care of everything.
* Have you anticipated that Boyapati will opt for such soft title?
– The title is apt to the story. He could have chosen a mass title in his style but it wouldn't suit to the story.
* What did you like the most in the film?
– There is a beautiful love story in the film. I loved the honesty in it. Rarely we come across such honest love stories in these days.
* Tell about your character?
– I am the 'Janaki' that you see in the film's title. My character has two shades. One incident makes my life upside down, and you have to find it out in the movie only.
* What is the difference between Janaki and Bhramaramba?
– There is a huge difference. Bharamaramba is very hyper whereas Janaki stays very moody. I have used a lot of Glycerin as I will be seen moody in most of the scenes in the film. Boyapti Srinu used to tease me to smile saying that the shoot for that day was over.
* Have you ever cried watching a film?
– Yes, recently I cried watching Ninnu Kori. It was such a feel good love story.
* Have you seen Fidaa?
– Not yet, but I am planning to. I heard that Sai Pallavi did a brilliant job.
* Don't you feel competition from emerging actresses like Sai Pallavi, Nivetha, Anupama etc.
– I don't think like that. If more and more talented actresses come in films, filmmakers will pen stories keeping heroines' characters in mind. Moreover, there is space for everyone in film industry.
* How did you feel being called No.1 heroine?
– I don't pay attention to it. If I score two back to back flops, media itself will brand me as iron leg. I will do films as along as my work gets appreciation and when it ceases, i will take retirement.
* It seems you have shifted your attention to Bollywood?
– Its not like that. I want to do good movies notwithstanding the language. But, my first priority is for Telugu films only.