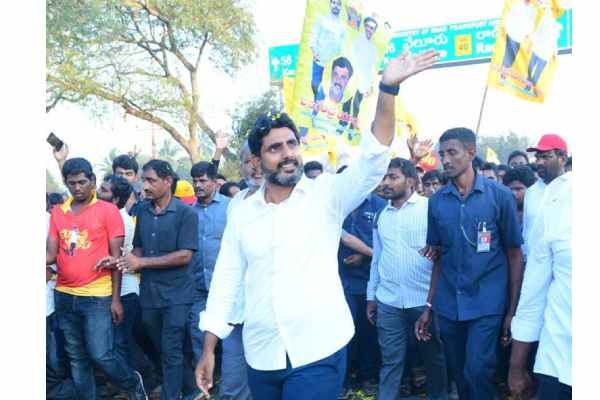 Expressing solidarity with the agitation of the Anganwadis, TDP general secretary, Nara Lokesh, on Tuesday demanded the State Government to immediately consider the genuine demands of the workers.
In protest against the repressive attitude of the State government adopted towards Anganwadis, Lokesh and all his followers who are walking along with him in the pada yatra, Yuva Galam, were seen wearing black badges. Later, the TDP general secretary said that taking into custody those who raised their voice for their rights reflects the dictatorial tendency of the ruling dispensation.
Earlier, those who were elected as MLCs met Lokesh at the campsite near Kadiri RDO office. The TDP general secretary congratulated them on their victory in the polls and also felicitated them. "You are real heroes of the State now as you won the polls fighting against the atrocities of this government," Lokesh said.
He told Ram Gopal Reddy, Kancharla Srikanth and Vempada Chiranjeevi, to continue their war on the floor of the Council too for the people's cause. The MLCs-elect said that they will strive hard for the success of the TDP in the coming Assembly poll under Lokesh direction.
The Kadiri Assembly segment witnessed all kinds of development only during the TDP regime, including the construction of the Government Residential Hostel for Muslim Minority girls near CPI Colony Hostel with Rs 17 crore.
Though 80 per cent of the works of this hotel are complete, the Jagan Government did not bother to complete the remaining 20 per cent works.
Also, the TDP has the credit of supplying the Handri Neeva water to Cherlopalli reservoir in Kadiri mandal through Bonthalavaripalli lift irrigation to meet the drinking as well as irrigation water needs of the people here.