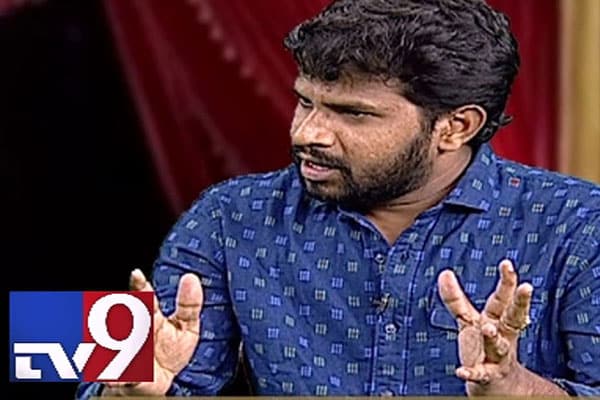 Jabardasth comedian Hyper Aadi, was in TV9 studio couple of days back. He was actually there to have debate with Kathi Mahesh, who made some adverse comments on Pawan Kalyan. It is know news that, Hyper Aadi made some sarcastic comments on critic Kathi Mahesh in his skit, albeit without directly taking his name. This annoyed Kathi Mahesh and he made some comments on Hyper Aadi as well as Jabardasth program. So to condemn those comments, Hyper Aadi came to debate in TV9. But we are not focusing in this article on how the debate went between Hyper Aadi and Kathi Mahesh but to discuss the subtle incident that happened during the debate that actually embarrassed TV9.
Initially Hyper Aadi did so well in the debate and seemed like he did his home work well before coming to debate. But during the debate, he tried to put even TV9 in an embarrassing position. He straightly asked the question – "On last Sunday, there was boat mishap in the state and that incident shook entire state. Even when that incident happened, TV9 telecast debate with Kathi Mahesh for 1 hour just to criticize Hyper Aadi. Is it necessary to telecast that program during that time?". When this question was asked TV9 anchor Devi initially confused and then obviously miffed and replied, "We know what to telecast when". It seemed, after this question, TV9 deviated from their initial approach on this program (that is debate between Kathi Mahesh and Hyper Aadi regarding Pawan Kalyan) and took Social activist Devi into live call and debated on Jabardasth program and how bad it is for society.
The debate continued for more than 2 hours and was able to engage audience through out. But after couple of days, when TV9 uploaded the program in their youtube channel, the part of the discussion that had Aadi asking TV9 this embarrassing question and subsequent discussions were deleted. So obviously it proves TV9 was embarrassed by Aadi's questions !!!
Telugu360 is always open for the best and bright journalists. If you are interested in full-time or freelance, email us at
Krishna@telugu360.com