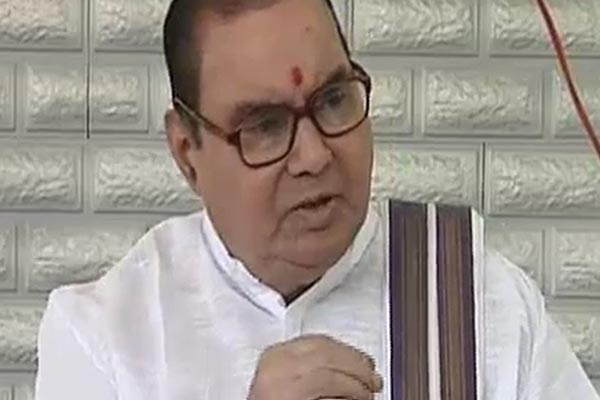 Former chief minister Nadendla Bhaskar Rao has suddenly became the fan of Prime Minister Narendra Modi. Today he defended Prime Minister Narendra Modi and took strong objection to Congress' talk of intolerance in the country. He said it was wrong to equate RSS with ISIS.
Bhaskar Rao has been remaining aloof from the politics ever since his coup against NT Ramarao failed in 1984, barring a brief stint as MP. The biggest political activity was publishing his autobiography. He quit Congress before the bifurcation of the erstwhile Andhra Pradesh.
Surprisingly on Saturday he spoke to some select correspondents and praised Modi as superstar. Pointing to former Prime minister Manmohan Singh's comments equating RSS with ISIS, Bhaskar Rao reportedly said," it ill behoves a former prime minister who was in office for ten full years." The former chief minister disagreed with the opposition's, especially Congress', criticism that intolerance was growing in India. " Where is the intolerance in the country ? Had the country been intolerant, Sonia Gandhi could not have entered the country and led the Congress party here. Congress leadership is jealous of Modi's meteoric rise and are trying to malign him," he said. He said regional parties were poisonous creatures ." The biggest mistake in my life was to bring NTR into politics and to encourage him to set up a political party,' he said. Rao denied the reports that his son and former speaker Nadendla Manohar was trying to join YSR Congress. " He has never been toying with such an idea," he clarified. When asked about if his son and he were planning to join BJP he said he had quit politics and he had no inkling of what he son was going to do. " My son is an independent man. He will take decision without being influenced by anyone," he said.
Whatever he spoke of his son, his sudden love for RSS and defense of Prime Minister Narendra Modi is being seen as the preparation of ground for his son's entry into saffron party.