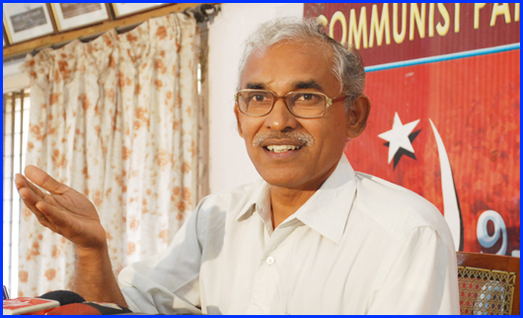 [dropcap]D[/dropcap]oes chief minister Chandrababu Naidu look like a burglar who got caught while in hole he made in the wall. "Yes, he does", says BV Raghavulu, politburo member of CPM.The veteran CPM leader said Naidu should first clarify to the people if the voice  recorded in the audio was his or not.
"He looks like a thief who was caught in the hole he himself made in the wall to burgle a house", he said.
Speaking to telugu360.com from Tirupati, where he was attending a seminar on the 'corporatization of politics', Raghuvulu wondered how Naidu evades a straight question about his role in the attempt to buy an MLA's vote in Telangana. "His voice is there for verification. His representatives were caught red-handed while offering money to nominated MLA Elvis.  Instead of denying the episode in clear terms, Naiduy is  talking everything other than replying the main question," Raghavulu said.
Raghavulu was critical of Naidu's attempt to distract people's attention from the cash-for-vote scam with a counter charge of Telephone tapping against the Telangana government.
"If he is so sure of his telephone having been tapped, and he has enough proof, why didn't his government file a case in the court? He should at least  come before the media with proof. It is again a ploy to divert people's attention and an attempt to cover up his tarnished face," he said. Dubbing the upcoming capital of Andhra Pradesh as the corporate capital, the former CPM state secretary said Amaravathi would become another Hyderabad with all development getting concentrated in the city.  This may lead to unrest in the long run in  other regions, he added.
[pullquote position="left"]"He looks like a thief who was caught in the hole he himself made in the wall to burgle a house."[/pullquote]
Raghavulu was equally critical of TRS chief minister K Chandrasekhar Rao. According to the CPM veteran, Rao was trying to get cheap mileage out of the case to gloss over his failures in Telangana state.
"Bifurcation has brought about many problems. Water sharing is a problem. Division assets of RTC and power sector has been pending.  Instead of concentrating on these issues, both chief ministers are indulging political one-upmanship. They will soon face the wrath of the people," he warned.