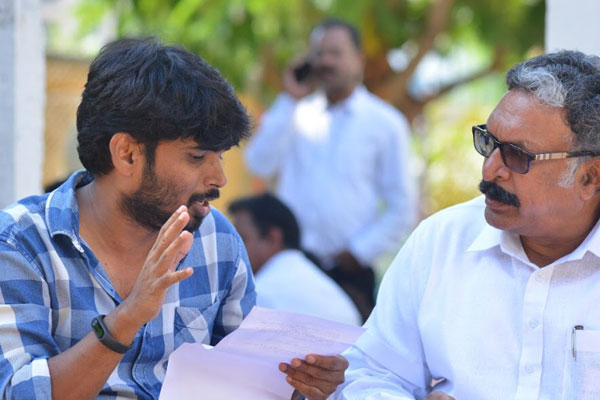 Nagaraj Goud
If the teaser of 'Nannu Dochukunduvate', starring Sudheer Babu, is anything to go by, then first-time director RS Naidu has a winner in hand. The youngster, who hails from Tadipatri, Anantapur, developed a keen interest towards cinema while in intermediate. But as he didn't want to work under anyone's command, he decided that the best way to learn the ropes is by joining a film school, which he did by taking up direction and screenplay course at Ramanaidu Film School. "While I was in village, I used to think of faction stories. After joining film school and getting exposed to world cinema, my perspective towards cinema changed for my own good," he smiles in a conversation with telugu360.com.
He made a short film 'Nee Mayalo' while he was still studying and the response that it got led producer P Ram Mohan (of 'Uyyala Jampala' fame) offer him a film. "He narrated me a story and we spent considerable time working on it. But after some time, creative differences cropped up and I parted ways amicably," he recalls, adding that around the same time, he got introduced to director Virinchi Varma, leading him to participate in the story discussions of 'Majnu' for a brief period. Soon after, he decided to pen 'Nannu Dochukunduvate', but as he failed to find a producer, he felt it's time to make another short. 'Spandana', a 15-minute short, followed and Sudheer Babu was among many who gave it a thumbs-up.
"Sudheer, especially, raved about the taking and later checked with me if I had any story for him. As I'm a poor narrator, I handed over the bound script of 'Nannu Dochukunduvate', which he endorsed. He later told me, 'We should make it without a single change'. He liked his characterization and the visual importance that I gave (to the script). They were other producers who were in the scheme of things to pool in resources for the project, but as things didn't work out with them, Sudheer took matters in his own hands and floated a production house to produce it."
The film, he says, is what happens when two contrasting personalities fall in love. "Sudheer plays Karthik, the manager of a Hyderabad-based software firm who has own goals and leads an extremely busy life. How an easy-going girl (played by Nabha Natesh) enters his life and how he falls for her is what the film all about," he shares, adding that the likes of Nassar, Tulasi, Tillu Venu, Prabhas Sreenu, Varshini and Ravi Varma will be seen in supporting roles.
He admits it turned out to be a difficult task to rope in a leading lady for the film, which was shot in 46 days. Besides auditioning established actresses, he also auditioned close to 40 newbies but to no avail. "Later Nabha came into the picture and I could see the character in her. She was okayed but I was worried if she'd do justice to the script. On top of it, I've overlooked many other actresses for her. If she isn't spot on with her performance, there was every possibility with the unit exchanging looks in anger," he laughs, adding that such a scenario didn't exist as Nabha was equal to the task. "I've planned a small sequence for her on day one with Nassar garu, but the way she walked to enact it sealed the deal for me. I've quickly realized that she got a hang of the part."
With most first time filmmakers drawing inspiration from their own life for their maiden life, it was no different with Naidu too. "'Nannu Dochukunduvate' has been borrowed from my personal life, which is why I could etch such a strong male lead. Sudheer plays the real me. My attachment to my family is also portrayed in the film. Nonetheless, Nabha's part is fictitious," Naidu, a fan of Woody Allen, adds.
Quiz him on how he sees the transition from shorts to feature cinema and he informs the former required him to get up at 3am in the morning as he had to most things on his own. "You don't know when someone will turn up and snatch away the camera because you are shooting without the required paper work. There was always that fear. With feature, things were more organized and also, you were working in a controlled environment," he informs, quick to add that as a habit he landed on the sets of 'Nannu Dochukunduvate' at 6am in the morning, only to be told by managers that he can arrive by 7 or 7:30 am as it will take time for the artistes to come and get ready.
He credits for Sudheer for being his pillar of support ever since he nodded to the script. "There was a proposal to rope in a good writer for the film's dialogues but he ruled it out, saying that my writing is the strength. I never felt like a debutante in front of him, nor did he make me feel like one," he ends.