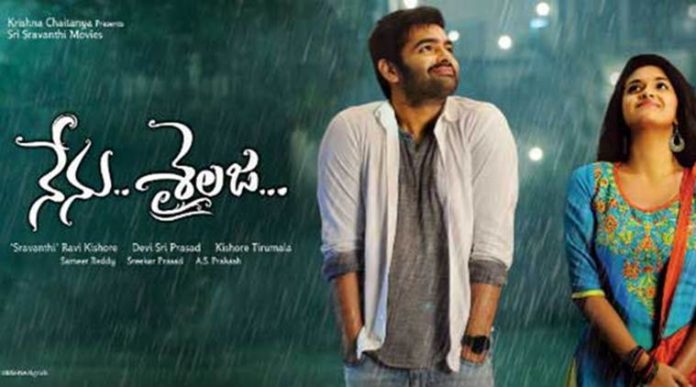 Nenu Sailaja Review:
Nenu Sailaja movie starring Ram and Keerthy Suresh has generated enough pre-release buzz amongst the youth, mainly for its peppy music and youthful lyrics. Let us see if this movie is able to strike a chord with audience or not
Story:
Hari(Ram), in childhood, likes his buddy Sailaja(Keerthy) but could not express his love. After this, Hari slowly makes it a habit of telling 'I Love You' to every other girl he comes across. However, all of them reject him. Meanwhile Hari's family moves to Vizag and Hari grows up. One fine day again Sailaja comes back to his life,but none of them know they were childhood buddies. Both become good friends and finally Hari proposes Sailaja after realizing she was none other than his childhood angel. Sailaja rejects him saying : I LOVE YOU, BUT I'M NOT IN LOVE WITH YOU. That line is the gist of the movie. Rest of the story is why she rejects Hari,how they resolve issues between them. Though the story sounds familiar on paper, story is refreshing and director dealt the story well.
Lead Actors:
This is a tailor-made story for Ram and he essays the role of Hari with ease. One wonders why Ram has chosen large than life roles in the past. There are few actors currently in Tollywood who can fit romantic entertainers and Ram is definitely at the top of the list. Keerthy Suresh does a decent job and her presentation should have been better. The stand out character in this movie is Pradeep Rawat. He evokes laughter in every scene.
What worked well ?
* Dialogues by Kishore Tirumala are fantastic. Right from funny one liners to philosophical ones, Kishore nailed it in dialogues department. Dialogues doesn't sound cinematic, but are quiet natural and appeal to youth and families.
* Comedy is sprinkled across the movie at right intervals. Director made good use of Pradeep Rawat and most of the scenes involving him evoke laughter. This movie might be a turning point for Pradeep Rawat and we might ending seeing him more in comedy villain roles ala JP.
* Next comes Kishore again,this time for direction,for his fresh treatment at most parts of the movie. Shot in Araku Valley, frames are so colorful and artistic.
* Ram's performance is another major highlight. Known for little overboard action, RAM reinvented himself in this movie.
* Director is able to generate emotions, and established the conflict point properly, which became rare in Telugu movies recently.
* Songs are a major asset to the film, Picturization and lyrics are good.
* Movie appeals to families and youth – both sections of audiences
* No vulgarity, No forced comedy
What should have been better ?
* Last 30 minutes of the movie has heavy dose of sentiment, and movie tends to slow down at the end.
* The line 'Hero settling in heroine's home prior to her marriage' been used umpteen times in movies earlier
* Little bit faster screenplay would have done wonders and made this a blockbuster film
* Keerthy Suresh makeup is inconsistent.
Technicians :
Songs composed by Devi Sri Prasad are good though not chartbusters. Background music by DSP is also good in parts. Cinematography by Sameer Reddy is beautiful.Araku valley looked so beautiful through his lens.Production values by Sravanthi Movies are good.
Verdict :
First half of the movie is good and refreshing, Second half is average. Classy comedy treatment,variety story line are the plus points. In second half,few routine episodes and 30 minutes drag is negative. Overall , better than all recent RAM Movies and easily watchable once. We would request audience to encourage Nenu Sailaja kind of clean movies
Telugu360.com Rating : 3.5/5
Cast: Ram, Keerti Suresh, Satyaraj, Prince, Vijay Kumar, Naresh, Pragathi, Rohini, Pradeep Rawat, Krishna Bhagawan etc
Cinematography: Sameer Reddy
Editor: Sreekar Prasad
Music: Devi Sri Prasad
Art: A.S. Prakash
Action: Peter Hains & Hari Dinesh
Lyrics: Sirivennela Seetharama Sastry, Ramajogayya Sastry, Bhaskarabhatla & Ananth Sriram
Producer: Sravanthi Ravi Kishore
Story, Screenplay, Dialogues & Direction: Kishore Tirumala