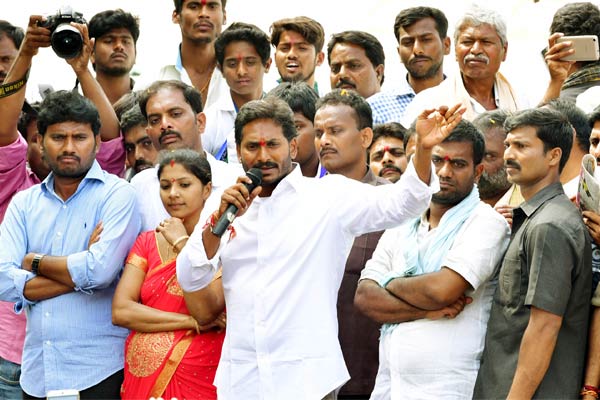 Jagan's padayatra that started on 6th November (2017) is going on successfully and it is more than 50 days since he started his foot march. However, some seniors of YSRCP, who wanted to join a few more leaders into the party to strengthen the party, were shocked by Jagan's response on such proposal. It seems, Jagan was against joining any more big leaders into his party. Reportedly, he told –
"We can't join those senior leaders into our party. They are big leaders and if they join our party now, they will expect cabinet ministries when we form government in 2019. As I have already finalized the compilation of my cabinet, I can't join these senior leaders"
Obviously, senior leaders of YSRCP were appalled by Jagan's response and they felt, Jagan must have become over-confident after seeing so many people coming to his padayatra. He might be thinking all those coming to see him during Padayatra will vote him, but which is not the case. They remind, even during Nandyala by-poll also so many people came to Jagan's meetings but the party lost in the elections miserably.
Moreover, we can recall what happened before 2014. Then also, Jagan party was full of leaders and he declined some last minute joiners. There were rumors those days that leaders like Ganta Srinivas were declined entry into YSRCP and so he joined TDP later. Had he joined YSRCP, the party's fate in Vizag might be different and the prospects of Vizag MP candidate (YS Vijayamma) also might be different. It is surprising to see Jagan committing the same mistake again.
Moreover, Jagan saying his 2019 cabinet is already compiled is shocking as well as ridiculous. Even the most senior leaders in the country who became chief ministers couple of times might have never fully compiled their cabinets much before elections. Probably, this only shows his over confidence. Seems, ruling party's USP in 2019 would be Jagan's over-confidence and his inability to turn anti-incumbency into votes.