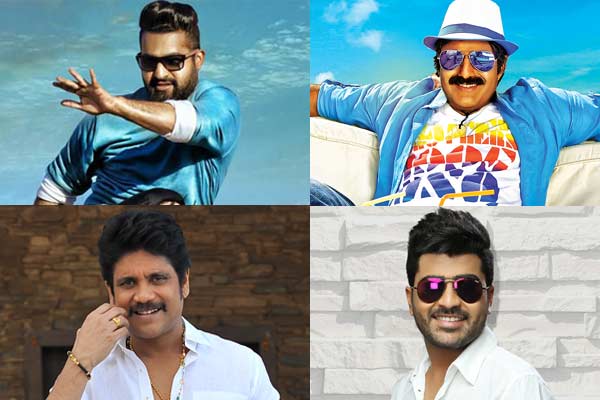 Post Baahubali release, the Overseas business for Telugu films has escalated to new heights. Taking advantage of the craze for the films in Overseas, our filmmakers have been quoting unreasonable prices for the distribution rights and Telugu360 has already cautioned the distributors and exhibitors to be wary of the facts and figures before falling into the trap.
Now, Telugu360 is coming up with one more write up regarding how the distributors are going to face the consequences if the producers and heroes of big ticket films doesn't have mutual understanding to sort out the date issues.
The coming Sankranthi festival will witness a jam pack box office war with biggies like Nannaku Prematho , Dictator and Soggade Chinni Nayana are gearing up for a grand release on three consecutive days respectively. Express Raja, the dark horse of the season, is also set for a decent release as the film is carrying superb reports in the industry circles. Due to heavy competition among all these films, the distributors couldn't close the business ahead of time and so they have decided to release in their own. Even Nannaku Prematho, which is touted to be the best bet for Sankranthi, is also going to be released by the distributor himself in most of the areas as they couldn't do the business in all areas.
Also, one more setback for the distributors is acute shortage of theaters in all areas in Overseas. Already a couple of Bollywood films are doing well at the box office there along with Star Wars. Four Tamil films are also gearing up to hit the screens for Sankranthi. So, it is hard for the distributors to get considerable number of screens. Trade reports reveal that no one has come forward to buy Dictator in overseas.  Nannaku Prematho distributor is releasing many centers on his own in many centers as they were not able to sell to local exhibitors. As per our reports for Soggade Chinni Nayana and Express Raja distributors are bearing the complete risk.
All the distributors have bought the Overseas rights of the film for a whopping price, but were not aware of the stiff competition. Initially, Nannaku Prematho was the only big budget film which was supposed to hit the screens, but Dictator and Soggade Chinni Nayana also joined the race while Express Raja is a surprise entry. Now, trade pundits predict that the distributors of all these films are going to suffer loss more or less even though the film garnered positive response due to the heavy competition and less numbers of screens.
So, it is high time that our heroes and producers amicably sort out the dates and avoid the clash so that all the distributors can bag decent profits in the Overseas market as they contribute a major portion in the overall share for any film.