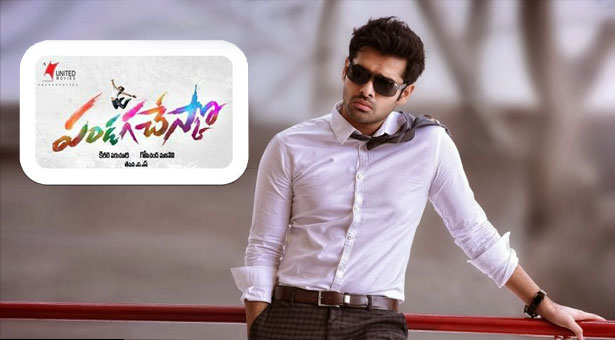 Short Take: "Pandaga Chesko" is cliched plot, utterly resembling "Atharintiki Daaredi", "Ready", "Ninne Pelladathaa". Waste of talent with average screenplay and bland humor. Ram flounders in energy. Average watch. Formulaic plot at 162 minutes.
The movies in 80s mostly are about hero dancing with the heroine on the slopes of Ooty or Kodaikanal and then wear a disguise and get into the dens of the villain and tame him. Hundreds of films are mostly about this theme which now seem ad nauseum. In the 90s, Tollywood followed the "Hum Aapke Hain Kaun" formula with films like "Ninne Pelladithaa" for many films until the audience clamored for new ways of story-telling. That came through Sreenu Vaitla's team with movies like "Dhee" in the 2000s and perfected with "Ready". The dizzy cinematic experience of watching a romantic couple unite two disjointed families and rekindling affections for each other has been primed to perfection with "Atharintiki Daaredi" – which crossed Rs.100 crores. That means the plot is beaten to death. But PK's protege on screen, a portly and smartphone version of Pawan Kalyan, Ravi Teja and Mahesh Babu – Ram continues the tedium of the plot mixed in all these movies aforesaid in "Pandaga Chesko" and gives us one of the most cliched and low-energy entertainers of the year.
The story is exactly like "Atharintiki Daaredi". Ram is a multi-billion dollar scion of a family in Portugal about to marry a business partner Sonal Chauhan that will create a mega conglomerate. On the verge of marriage, his organisation gets slapped by a notice to cease the Indian factory on a PIL from GreenEnergy (Or Greenpeace?) headed by Rakul Preet Singh who cares for the environment more than Al Gore and Dalai Lama. Rakul Preet Singh, at home, gets divided between a doting father Sampath and an affectionate uncle SaiKumar who were once thick friends but we gather, later, become estranged because of Sai's involvement in the elopement of Sampath's daughter with Rao Ramesh. Ram is born to that wedlock and hence has to come back to atone for the misunderstanding and re-unite the families sparring in hatred. How Ram tames the ugly side of his uncles and gets the family rooting for each other is the second half.
The film runs to 162 minutes length enough to bore you out because neither the story-telling nor the jokes are anything new. Director Gopichand who made films like "Don Seenu" has shown his capability hasn't embraced higher levels of cinema despite the penmanship of Kona Venkat. Kona's dialogues hardly fire with a few pistol shots here and there. Performances by Sai Kumar, Sampath stand out. Brahmanandam clearly is struggling to fire up despite one of the longest roles in recent times – he shows right in the beginning and stays till the end. Brahmi's characterisation is a travesty of modern sensibilities of Tollywood. He is seen leching at heroine, happening more frequently in Telugu films. Can you ever imagine the greats like Padmanabham, Raja Babu, Relangi act voyeuristically and get laughs and respect. Film makers should note this approach is the beginning of the end of Brahmanandam. MS Narayana, lucky to see more of him but since he has passed out before dubbing his own trademark voice, the voiceover does only half justice to his impact. Yet, he has a key important role which gets few laughs.
Music by Thaman sounds deja vu but somehow gives the sole energy that is lacking in a Ram film. His peppy music alongwith Sameer Reddy's cinematography are the two bright spots of the film. Sonal Chauhan actually outsizzles Rakul Preet Singh in the film with her looks, and glamor. Rakul cannot act beyond her pouts and angry looks and too much exposure with too many heroes is going to undermine her long-term sustainability. Ram is a super-suave hero and metrosexual to the core but his energy levels have dropped in this film. He concentrated more on his looks and dances rather than performance which is usually in sync with his good looks. Except for one more climactic outburst, Ram the actor is invisible throughout but if you want to see what power-dressing is all about Ram's dress sense takes the cake. Comedy is cliched and fails to create big impact moments despite a rich talent. On the whole, the movie is not novel, the treatment nothing new and the screenplay average – Tollywood will be better the sooner it comes out of this tried Mayabazar screenplay trappings.
Rating: 2.5/5
(Reviewed by Sridhar.S)