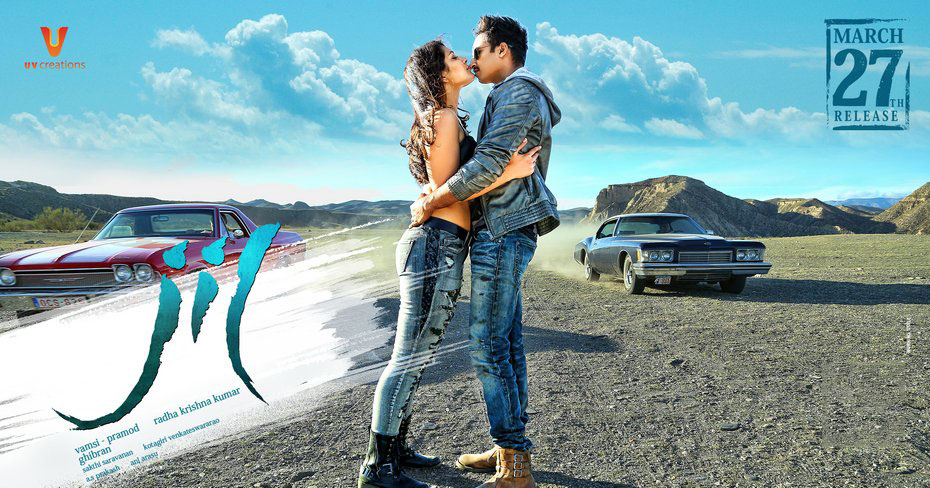 After an entertaining "Loukyam", Gopichand returns in 2015 with a metrosexual film that casts him in different light – trimmed hair and moustache, toned body and suave looks. Directed by Radha Krishna Kumar, "Jil" is a two line story. First line: Gopichand is a fire-officer in a family who is full of fire-brigade men who falls in love with a girl who he rescues atop a multi-storeyed building. Second line: Gopichand confronts a gang of underworld don when they are chasing down Brahmaji who runs away from the gang with a Rs.1000 crore. His confrontation gains momentum at inteval block. Ideally, the movie should have ended at interval but being Tollywood and FDC rules of above two hours and above, the movie agonisingly drags with slower narration and amateur comedy and love songs between Raashi Khanna and Gopichand.
What mars the film is the violence and the monotony of the villain with a beard shorter than Rabindranath Tagore and a voice that is more powerful than Amrish Puri. We have seen that kind of villain many times before in Tollywood where slaying of men is common and one loses count of the people chopped. The justification for such violence was never clear in the movie. "A" certificate was given because of that I assume. Generally, Gopichand has picked up good subjects with variety but this film produced by the brother of Superstar Prabhas beats imagination and logic. Because the hero is a fire-officer, we see atleast four or five fire accidents in the film, some he saves and some he doesn't. What is ridiculous is that the entire family runs the fire brigade like a Hindu Undivided Family – father, friends and the hero all are on standby for a fire-alarm. I never knew that fire-brigades are run like family businesses and that smoke signals can set the cash registers ringing. 
Let that be, the good part of the film is Gopichand's new looks and his cute romance with Raashi Khanna which lifts the film out of normal college romances. Both exude good screen chemistry and look both dignified and colorful in costumes. Raashi Khanna has urban appeal but can't act beyond a gentle gaze and cherubic face. Gopichand maintains a cool look and an under-stated termper – something we are not used to seeing him. Every Star experiments with versatility but that can only go well when the story is unique or rich. This film doesn't give scope to much of Gopichand's histrionics or loud-mouthed dialogues. The only dialogue that stands out is "I get calls when everybody's on fire. But you called me when I am on fire." Or something to that effect. Stunts despite their elaborateness don't sizzle, and humor is either bland or missing in action. Ghibran's music tries to elevate the film's moods better and the songs sparkle in general with rich picturisation and different sounds. You can't stop Ghibran from enjoying himself with experimentation of music with different scripts – he is on a new high and is flavor of the season. Production values are good – with some songs shot in Spain etc.
On the whole, a pale film with a weak story and low-energy narration.. Good in parts but wait for a better Gopichand film.
Rating : 2/5