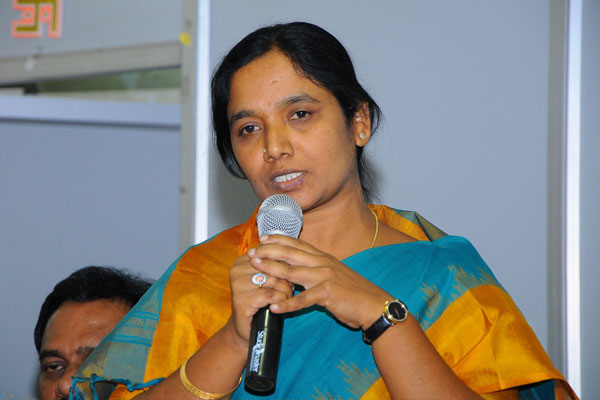 It is known news that Pawan has rebelled against TDP in the month of March and since then he has been firing salvos at TDP and its supremo Chandra Babu Naidu. After that, as expected, TDP leaders are started retaliating Pawan strongly. But Paritala Sunitha's today's comments surprised many as she showed soft corner towards Pawan.
She told Pawan should support TDP once again and that will help AP state. She also asked Pawan to give suggestions for the development of state and work with TDP. It is known news that Pawan has good rapport with Paritala family in recent times and he went to her house during his Anantapur tour. They cordially invited him and offered him sumptuous breakfast but he didn't have food there because of ill-health. Paritala Sunitha and Paritala Sriram even had closed door meeting with Pawan and no one knows what transpired between them.
Meanwhile, Janasena fans started predicting Paritala Sunitha may join Janasena. But it would be silly to assume this family leaves TDP given the fact that they have decades old association with TDP and specifically, late Paritala Ravi's very close association with Chandra Babu. But at the same time, it could not be completely dismissed too. There have been rumours that all is not well with Paritala Sriram and Lokesh, even though Sriram condemned those rumours. Moreover, JC Diwakar Reddy is getting closer to CBN and in a position of controlling district politics because of his proximity with CBN. This, according to Janasena fans, might have triggered Paritala Sunitha to keep her options open. Also, supporting Pawan earlier is different as he was also supporting TDP then. But nowadays, he is lambasting TDP on daily basis and doing or at least trying to do damage to TDP every day. Asking for his support at this juncture is raising many eyebrows now. Moreover, Pawan Kalyan told, almost 40 MLAs of TDP Party are constantly in touch with him and are willing to join Janasena. This is also another reason for people suspect whether she will consider joining Janasena.
At this moment, Sunitha's comments have to be considered as expression of her intention of bringing TDP into power once again rather than her soft corner for Janasena. But, of course, anything can happen in politics. We have to wait and see if there is any truth in these rumours of Janasena.