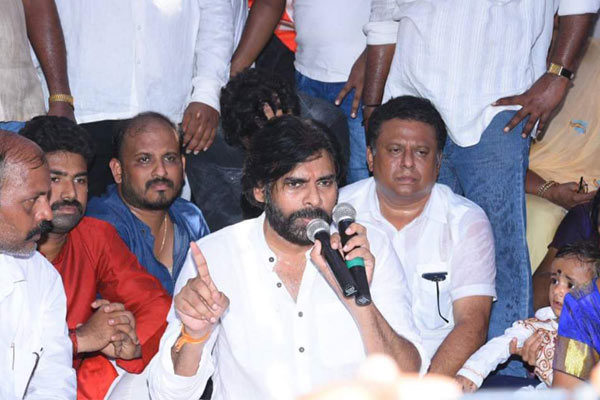 Jana Sena chief Pawan Kalyan visited Settipalli farmers and asked them to fight against the government to get back their rights on land near Tirupati. He also assured his party support to them and assured them of justice.
Settipalli issue: The controversy started when the government made a move to take over 500-acre land in Settipalli near Tirupati under land pooling. Around 150 farmers seek regularization of 250 acres of land under their possession for last several decades. Also around 3000 people who purchased the lands measuring about 250 acres also demanded to regularize them. CBN also assured them justice before 2014. But CBN's attempt to acquire their lands in last couple of years drew the ire of farmers.
Pawan visited Settipalli: Pawan met Settipalli farmers and expressed his party support to Settipalli farmers and assured that he will be with them in their fight. He lambasted Chandra Babu Naidu for not keeping the promise he made to Settipalli farmers in 2014 election that he would give their if his party comes to power.He demanded the government to give up the proposal to acquire the farmers lands in Settipalli or else Janasena would intensify the stir. He also criticized government for acquiring the lands of the poor and giving it to corporate and leaving the needy and poor into lurch. He questioned why the government always targeting only poor farmers lands for acquisition. He added, because of government snatching farmers lands in the name of development, there is unrest in rural areas .
We will have to wait and see how government responds on this issue.